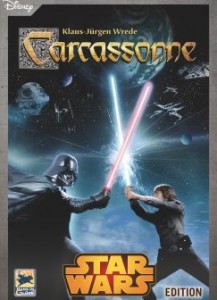 What happens when you take a game based off a town in the south of France and take it to a galaxy far, far away? You get Carcassonne: Star Wars, of course!
This classic game is given a galactic makeover, with Roads becoming Trade Routes, Cities becoming Asteroid Fields, Cathedrals as Planets and Meadows as Deep Space. The three teams are similarly blasted into a Star Wars theme (Red and Green: Luke, Yoda and the rebels; Black and White: Darth Vader, Stormtroopers and the Empire; Orange: Boba Fett and the bounty hunters).
However, the Star Wars edition has a few more Jedi-mind-tricks up its sleeve: for the first time, there is an element of combat in the game. Instead of the original system of ties (or majority rules) when Meeples come into conflict, players now roll die to establish who controls the feature – the highest number rolled wins, and gets the points too.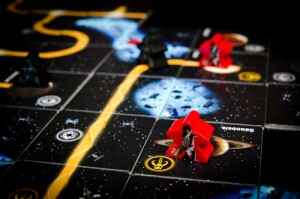 Another key difference with this edition is that the Deep Space tiles (originally Meadows) no longer give out points, whilst Planets (Cloisters) may be conquered from adjacent tiles – something to bear in when planning tactics. These small changes to the playbook take the Carcassonne: Star Wars edition past being just an aesthetically different board – the game genuinely has a different feel, earning a place as one of the best interpretations of the Carcassonne series so far.
Overall, this new edition is a fantastic extension to both the Carcassonne world and the Star Wars universe. Fans of both, either or neither will enjoy getting to defeat the rebel scum or bring down the evil Empire in this well-thought-out twist on a gaming classic.
The game can be played with between 2-5 players ages 7+ and has an estimated playing time of around 35 minutes. Stars Wars is taking over Carcassonne – which side will you be on?  Available here.
For the latest board game news and releases follow us on Twitter and or Facebook. Plus you can subscribe to receive our latest blogs via RSS feeds.
Like our blogs? Please Retweet, Like or G+