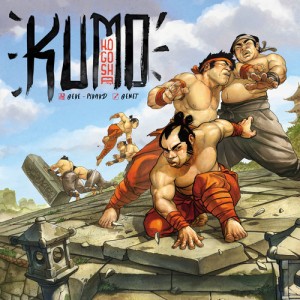 A long time ago, the gods decided to pass Earth down to Mankind and retreated to live in the Heavens. They erected the Cloud Temple, a symbolic border between the two worlds and home to the Stone of Balance. As the sun shone from the Heavens and the Earth blossomed, the gods decided to open the gates of the Temple to only the most skilled people, allowing them to compete to become Kumo Hogosha, Guardians of the Clouds. Today it is your time to continue writing the legend, combining strength and strategy to win your duel.
The goal of the game is to push (or pull) the Stone of Balance, an enormous stone in the centre of a nine by nine square arena, out from the side of your opponent. The catch: the arena is rotating. Each player controls six Kumotori, or fighters. On every round he has five actions at his disposal, one of which is mandatory: the arena must be turned by 90 degrees. The mandatory action and the remaining four actions can be performed in any order the player wishes.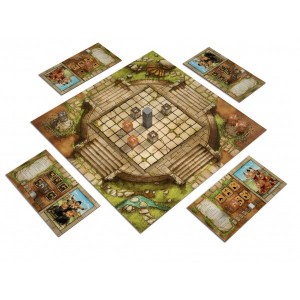 The remaining four actions are chosen from the following six options: rotate the arena 90 degrees (effectively the player can bring it back the way it was, or totally change its alignment, place one Kumotori in the arena in an empty space on any of the nine squares of the side that is currently in front of him, move one Kumotori horizontally or vertically, this move can be applied to only four out of the six states a Kumotori is in, perform the state of the active cube face, change the active cube face of the Kumotori and free a Kumotori from prison.
Climb into the Rotating Arena, master the ever-changing environment and bring the Stone of Balance into your opponent's camp to become a Kumo Hogosha! The game can be played with between 2-4 people ages 8 upwards and can be played within an average time of 25-30 minutes. Available here
For the latest board game news and releases follow us on Twitter and or Facebook. Plus you can subscribe to receive our latest blogs via RSS feeds.
Like our blogs? Please Retweet, Like or G+