In this blog we will take a look at some of the accessories for the Marvel Champions Card Game.  First up is:
The Broken Token Organizer
I know that the game box has an organiser for the cards in it, the problem is it is a badly spaced thin plastic one. With the Broken Token organiser you get a better designed more compact beautifully crafted one.   I only have two Broken Token organisers (at the moment) but I think this is a great one for creating a feeling of order. With its two removable lidded token holders, you won't be having to search the box for all those escaped tokens.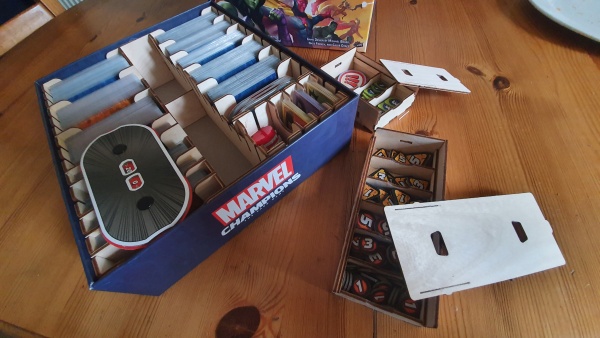 You do have to make it up yourself but it doesn't take too long and if you want to sort your cards differently you can even get extra dividers.
You can order this at: https://www.bgextras.co.uk/marvel-champions-accessories-c409.htm
Also at the above link are the play mats which we will take a look at below
Marvel Champions 1-4 player game mat
This is a mat that will sit in the middle of the play area, it is a great mat with images of some of the ultimate Marvel baddies. Thanos, Ultron, Venom and the Red Skull. Its 26" x 26" with a non slip underside and a neoprene play surface, so it's easy to clean.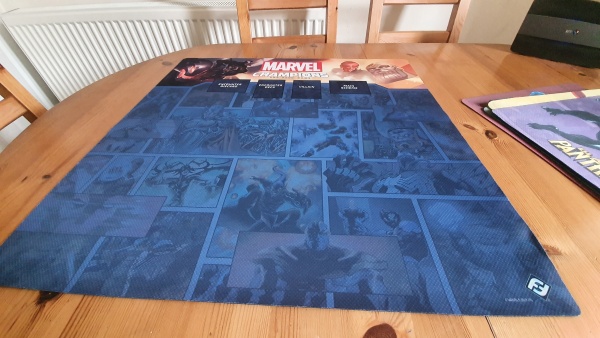 Hero game mats
To make the game that much more of an experience, there are five individual play mats. This means every player can have the use of a top quality neoprene mat. There may be more to character mats to come but for the moment they are as follows.
Spider-Man
Spider-man is one of the best known Marvel characters, He first appeared in the anthology comic book Amazing Fantasy #15 (August 1962) Peter Parker gets bitten by a radioactive spider and he gets his powers, he learns from his uncle that "with great power comes great responsibility" which hit home when his uncle dies in an altercation with a thief that Spider-man had ignored. He then decided that he would catch any bad guys that crossed his path.
The artwork on this game mat is awesome.
She Hulk
Created by writer Stan Lee and artist John Buscema, she first appeared in Savage She-Hulk #1(1980)
Following an injury, Walters received an emergency blood transfusion from her cousin, Bruce Banner, and acquired a milder version of his Hulk condition. As such, Walters becomes a large, powerful green-hued version of herself while still largely retaining her personality. In particular, she retains her intelligence and emotional control, although like Hulk, she still becomes stronger if enraged. In later issues of the comics, her transformation is permanent.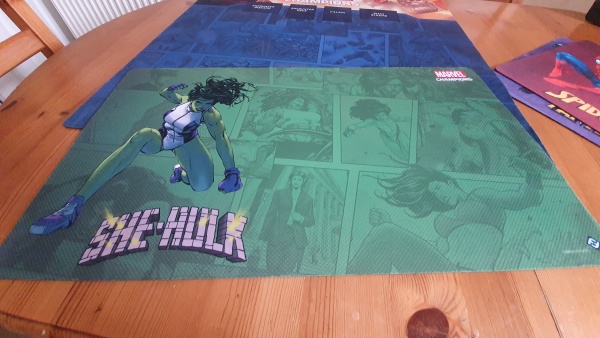 Iron Man
Iron Man is a fictional superhero appearing in American comic books published by Marvel Comics. The character was co-created by writer and editor Stan Lee, developed by scripter Larry Lieber, and designed by artists Don Heck and Jack Kirby. The character made his first appearance in Tales of Suspense #39 (cover dated March 1963), and received his own title in Iron Man #1 (May 1968)
Iron Man is the alter ego of multi millionaire weapons dealer Tony Stark, unlike most of the super heroes Tony Stark has no super powers, instead he uses his intelligence and scientific know how (as well as a lot of money) to create a powered iron suit.
Black Panther
Black Panther is a superhero appearing in American comic books published by Marvel Comics. The character was created by two legends, writer-editor Stan Lee and writer-artist Jack Kirby, first appearing in Fantastic Four #52 (July 1966) in the Silver Age of Comic Books.
The Black Panther is a hereditary title of the king (or his heir) of the kingdom of Wakanda. Whether you're a fan of the movie version or of the comic book this hero has a lot of depth and he is a great character.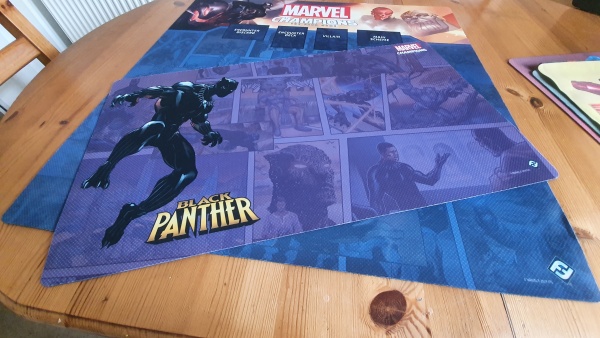 Captain Marvel
In the Marvel Cinematic Universe, Captain Marvel is Carol Danvers, portrayed by Brie Larson. The hero first appeared in the comics in Marvel Super-Heroes #12 (January 1967) and was created by Stan Lee (writer) and Gene Colan (artist)
The character has had loads of heroes use the name, they are Mar-Vell, Monica Rambeau, Genis-Vell, Phyla-Vell, Khn'nr, Noh-Varr and Carol Danvers.
The play mat is of Carol Danvers.
A reminder that you can order these at:  https://www.bgextras.co.uk/marvel-champions-accessories-c409.htm