Another cram packed expansion, including the (yes you've got it) Seventh and ninth Doctors, their companions (will go into that more later) more Timey-wimey cards which includes the leather jacket from the ninth Doctor (Christopher Eccleston) the umbrella of the seventh Doctor (Sylvester Mcoy) and Excalibur. Adding more Doctors improves the regeneration action in the game a lot.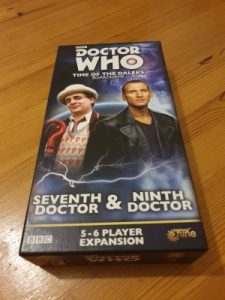 The companions in this expansion are:
Melanie Bush: played by Bonnie Langford from 1986 until 1987, a computer programmer from Earth.
Ancelyn: played by Marcus Gilbert in 1989, he was a Knight Commander under King Arthur from another dimension.
Ace: played by Sophie Aldred, from 1987 until 1989, a human teenager.
The Face of Boe: voiced by Struan Rodger, from 2005 until 2007. It was suggested that he could be the future Jack Harkness in "Last of the Time Lords"
Winifred Bambera: Angela Bruce: 1989, Brigadier in Unit.
Adam Mitchell: played by Bruno Langley, 2005, a boy genius who ends up being thrown out of the Tardis by the Doctor for misuse of future information.
Rose Tyler: played by Billy Piper 2005 until 2013 (lots of guest appearances during this time, last seen as the moment or "bad wolf girl" as the war Doctor called her.
Micky Smith: played by Noel Clarke, from 2005 until 2006 and then again in 2008 and yet again in 2010. The long suffering boyfriend of Rose Tyler.
Jackie Tyler: played by Camille Coduri, from 2005 until 2010, Rose Tylers Mum.
Peter Tyler: played by Shaun Dingwall, from 2005 until 2006, Rose Tylers Father.