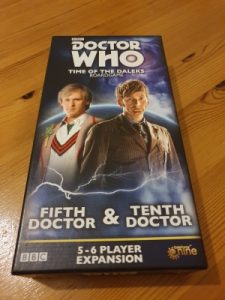 This expansion includes the Fifth Doctor (Peter Davison) and the Tenth Doctor (David Tennant) Included in the Timey-wimey cards are the Psychic Paper and River Songs Diary. There are more Dilemma cards and locations.
The Companions are:
Tegan Jovanka: played by Janet Fielding, from 1981 until 1984, an Australian airline stewardess.
Kamelion: played by Gerald Flood (voice) from 1983 until 1984, a shape changing Android
Vislor Turlough: played by Mark Strickson, from 1983 until 1984
Sally Sparrow: played by Carey Mulligan, 2007, a young photographer from London
Martha Jones: played by Freema Agyeman, 2007 until 2010, a medical doctor.
Donna Noble: played by Cathirine Tatefrom 2006 until 2010
Wilfred Mott: played by Bernard Cribbins, from 2007 until 2010, Donna Nobles grandfather.
Christina De Souza: played by Michelle Ryan, 2009. A thief.
Captain Jack: played by John Barrowman from 2005 until 2011 (due to spin off Torchwod)
Jenny: played by Georgia Moffett 2008. He appeared in "The Doctors Daughter" Georgia Moffett is the Daughter of the fifth Doctor Actor Peter Davison. She is also now married to the Tenth Doctor David Tennant.