Publisher is Gale force 9, 2-4 players, 2 Hour game play. It says age 14+ but I think younger players from
11 should be fine with a little help in their first game or two. This is a cooperative game but you can play it semi cooperative if you prefer, although this will make the game harder to win.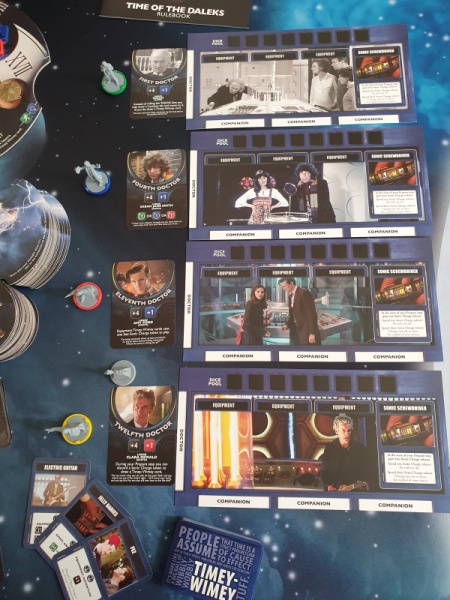 You play this game as one of the Doctors trying to stop the Daleks (led by Davros) from reaching Gallifrey and ending all that the Doctor has worked so hard to achieve. You explore destinations and try to overcome the dilemmas that are there. You are working together to try to get to Gallifrey first and save the day.
Gale force 9 have done a good job in converting the feel of Doctor Who into this game, although they usually are good at getting the feel right when creating games from tv shows, the Firefly board game being their flag ship game. Four Doctors with the base game the 1 st Doctor played by William Hartnell, the 4th played by Tom Baker, the 11 th played by Matt Smith and the 12 th played by Peter Capaldi. There are more coming out in the expansions so we should be able to get them all. The expansions will also supply the companions for that Doctor, more item cards, destinations to match the doctor being added and more dilemma cards that adds story lines for that doctor.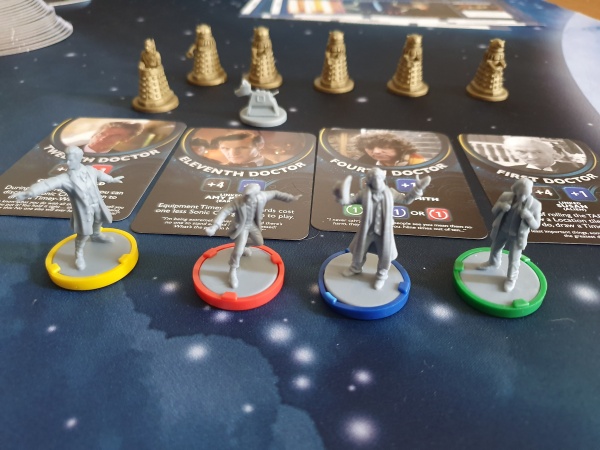 This is a great game whether you are newbie, a fan of the reboot or a fan of it all.
You can order it at: https://www.bgextras.co.uk/doctor-who-time-of-the-daleks-i4002.htm