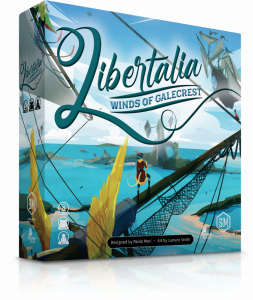 This new game for Stonemaier Games and has a very Pirate theme, one of the differences is that the ships fly, which has a very different feel. You will be sending crew members to try to get you Treasure from the islands but as you all have the same crew as the other players then it becomes a fight of who is the craftiest person in the group.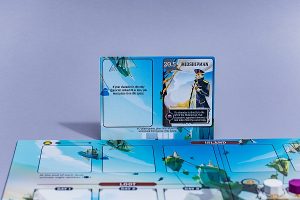 While this is a new game for Stonemaier Games, this might not be a new game for you, as it is based on the original Libertalia game from  Marabunta Games however, as well as making it prettier and more colourful they have brought in a  reputation track that fixes the annoying  problem of tiebreakers.  The new midshipman mechanic means there is a good way to play with 2 players.  The Automa Factory have as with previous Stonemaier Games, been brought in to produce a robust solo variant. 
While playing your go,  if the order that you have to play throws up the most negatives, that is the one that must be used, meaning you cannot use the negatives in any order you choose, you have to take them int the order that they are in. So be careful how you play your cards, as it can really change your game.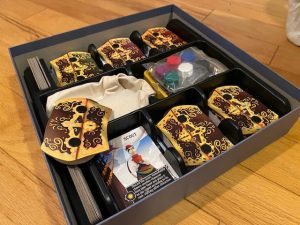 Components: 1 game board, 1 bag, 48 loot tokens,   (10 maps, 8 barrels, 6 amulets, 4 chests, 6 hooks, 6 sabres, 8 relics), 7 loot tiles, 1 midshipman tile
  (2 player mode), 54 doubloons (cardboard coins), 240 character cards (64x88mm, 40 per player), 6 score dials, 6 reputation tokens, 6 graveyard tiles, 4 automota loot tiles, 39 automota solo cards (63x88mm), 1 automota [layer aid cards (63x88mm)