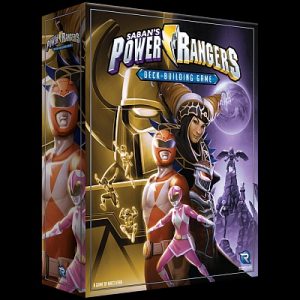 Go Go Power Rangers!  The Power Rangers Deck Building Game is a lovely nostalgic card game for those who grew up watching and loving the Power Rangers.  It's a 2 – 4 player game, where you play in teams: heroes vs villains.  Each player has a different character, who all have specific abilities.  Throughout the game you can recruit your own team from the grid, providing your opponent hasn't battled them and taken them out of the game.  Once you've bought enough heroes/villains, equipment's and maneuverers, you can use them to activate your character – to turn them into a Power Ranger or make your villain Empowered.  Once you've done this it won't change back.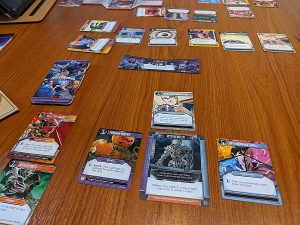 The game starts off similar to Dominion – you all given the same starter cards that give you shards – money to buy items – and energy.  Energy is stored to activate cards abilities on your turn.  Most the cards you buy will also give you more shards so you can buy better cards.  However, the cards you can buy change quickly through the game.  Each round you have 6 cards in the grid you can buy or battle.  Each team also has their own specialist cards it can buy.  These cost more but will aid you in the game.  The Power Rangers can buy Zords and once you have enough, these become the Mega Zord.  You can only have a maximum on 6 of these.  The Villains can attach other Villains to their team, along with specialist weapons.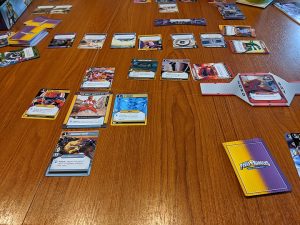 The main aim of the game is to attack your opponent enough to deplete all their health.  Once one team has 0 health the game ends.  The game also ends if you have gone through the whole main deck of cards.  The discarded and destroyed cards aren't put back into the bottom of the main deck.  This means that the game play is about 45 minutes, once set up.  This is enough time to really get into your characters abilities and build a team or Zords or Villains to defeat your opponent. 
You can order this game at: https://www.bgextras.co.uk/power-rangers-deck-building-card-game-i5627.htm