Next Stop London Bridge, Tickets please!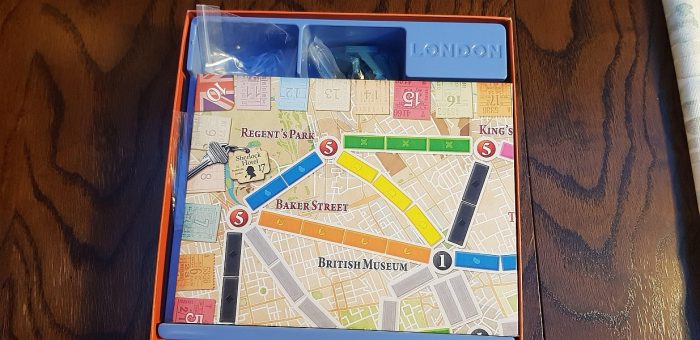 The latest instalment in the hugely popular and successful board game series "Ticket to Ride" gets
the "Swinging 60's" London treatment (groovy baby!).
Following the success of TTR New York, London is likewise designed for 2-3 players and a quicker
game than the main game, taking around 15-20 mins to play (varies depending on tactics used). Now in the interest of
full disclosure, I have to confess to being a big fan of TTR and anyone that saw me at UK
Games Expo, will no doubt testify to this.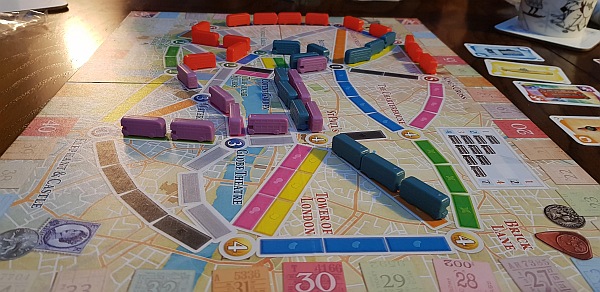 The basic premise of TTR remains, you gather colour cards, then use them to claim routes
between stops. You're awarded points for completed tickets (joining 2 specific destinations) and for
the routes claimed. In addition to this (and therefore making this the unique part that makes
London stand out), there are bonus points awarded for connecting the stops with the same
numbers on. Of course the other big difference is that all the pieces are RM Routemasters (the
classic London Bus), which is immensely satisfying, especially the red ones for the obvious reason.
Now I know I'm supposed to be objective and point out the shortfalls and not just praise the game.
So 3 points:-
1.) It is a 1960's London game, which includes yellow submarines as the yellow playing cards
and the Beatles song "She's got a Ticket to Ride hasn't been included. Glaring I tell you!
2.) The bus stop "Globe Theatre" didn't exist in the 1960's.
3.) I'm digging deep here. London buses came in Red and in Green in the 60's, so not having
green buses is a glaring omission. Though I can't really hold this against them as that would
mean admitting my geek level knowledge of buses.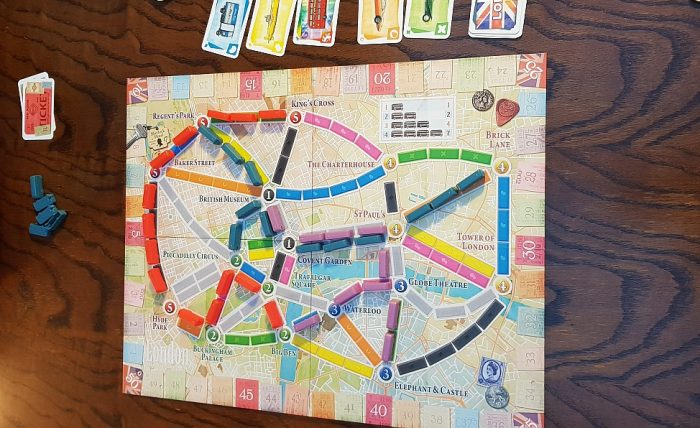 The game plays much like the original game, is easy for 1 st time players to pick up and for the
seasoned TTR player, it's a refreshing, simple version to play without all the complexities of the
France, UK, Netherlands et all editions. Due to the quick, simple and satisfying nature of the
game, it makes for a great "filler game" that you can play several rounds of while waiting for "the
stragglers" to arrive, then play your main game of the evening. The box is nice and compact and
the interior storage is well thought out and neat. For me, as it's a small box it will be coming on
holiday with me this year, which means for the 1 st time I can play TTR while away
This is a very welcome addition to my games collection and will be played often, sorry, I mean a
lot, scratch that, I mean all the time, no I mean….gotta go it's my turn!
Order your copy at: https://www.bgextras.co.uk/ticket-to-ride-london-i3759.htm