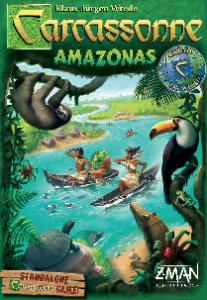 In Carcassonne Amazonas, players sail their boats to the Amazon to discover abundant wildlife. As players place tiles and use meeples to claim locations, they will also be moving a boat down the great Amazon river with the aim of scoring enough points from villages, tributaries, jungles with animals, and maintaining a lead in a river race.
Players score points not only for discovering animals, but also for visiting native villages and water courses while their boat moves forward on the Amazon. Amazon is full of caimans and piranhas which often bring points to those who are farthest down the river. You move your boats forward when you encounter boat symbols on your water courses and also when you do not place any meeple on water courses or villages, nor huts in jungles. The game ends, as usual, when all tiles have been used up, and the two boats furthest down the river score some bonus points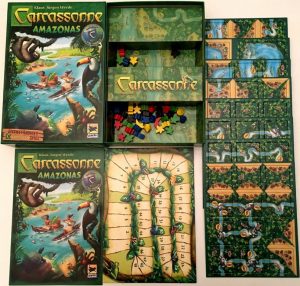 Explore the Amazon to discover the many animals that live there. Visit villages and walk along the many tributaries of the Amazon River. And this time, victory will require more than clever tile and meeple placements: you'll need to stay ahead of the competition on the river itself.
Carcassonne Amazonas can be played with between 2-5 payers aged 8+ with an estimated playing time of 35 minutes. Available here.
For the latest board game news and releases follow us on Twitter and or Facebook. Plus you can subscribe to receive our latest blogs via RSS feeds.
Like our blogs? Please Retweet, Like or G+