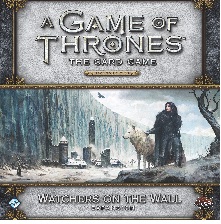 The 3rd deluxe expansion for A Game of Thrones the Card Game 2nd edition.
Travel north and join the Night's Watch with Watchers on the Wall! Within this expansion, the Night's Watch explores new and existing themes, as you find new ways to defend the Wall, new ways to conscript your opponent's characters, and plenty of rewards for focusing on the three branches of the Night's Watch: Rangers, Stewards, and Builders. Along with the nameless men who swell the ranks of the Night's Watch, you'll find new versions of iconic characters from throughout the saga, including Jon Snow, Old Bear Mormont, Maester Aemon, and Samwell Tarly.
The men of the Night's Watch have only one sworn duty: to defend the Wall and protect the Seven Kingdoms. Even when the Night's Watch is drawn into the intrigues and power struggles that define the game of thrones, they play the game much differently than the Great Houses of Westeros. In fact, most of their power comes not from winning challenges, but from defending The Wall. The Wall gives you a significant source of power, but defending it against a concerted enemy assault can be difficult. Fortunately, Watchers on the Wall gives you the tools to strengthen your defences, beginning with a new version of Jon Snow
Although the focus of this expansion rests on the Night's Watch, you'll find two new non-loyal cards for every other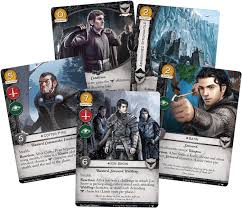 faction, expanding your options for any alliance. You'll also receive an assortment of neutral cards portraying the Night's Watch's most common enemies, the Wildlings. With seven new plots (one loyal to the Night's Watch) rounding out the expansion, Watchers on the Wall offers new pathways to victory for every deck.
The men of the Night's Watch take no wives, hold no lands, and father no children. They wear no crowns and win no glory. They live and die at their post. Night is gathering, and your watch will soon begin. Available here.
For the latest board game news and releases follow us on Twitter and or Facebook. Plus you can subscribe to receive our latest blogs via RSS feeds.
Like our blogs? Please Retweet, Like or G+