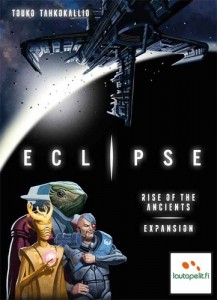 While the galactic conflict escalates and several new factions are trying to get a foothold on the galaxy, the adversaries suddenly need to find allies among themselves to face the rising threat. The systems previously thought to be empty are suddenly swarming with Ancients – whole worlds of them, with ship capabilities way beyond anything seen before. They are not willing to negotiate. With the Rise of the Ancients expansion for Eclipse, you must find allies among your formerly bitter enemies to face the rising threat. At the same time, new factions enter the game, expanding your options for gameplay.
Eclipse: Rise of the Ancients, the first full-size expansion for Eclipse, challenges your civilization to conquer and reign supreme while the terrifying Ancients begin to once more establish a foothold in the galaxy. Each story is different (and sometimes very different) from the previous ones. It introduces several new additions to the base game, such as Rare Technologies, Developments, Alliances, Ancient Homeworlds and Warp Portals. There are also three new player boards with four new different alien species to choose from. New components allow up to nine players in one session. You could play several games and not see certain rare tech, or certain combinations or developments, or go several plays without encountering a certain ancient cruiser, or discovery tile. Due to the modular design, you can use all of these additions or just some of them in any game of Eclipse, according to your preferences and play style. Not only does this expansion make the game even more fun, but the replay ability level is increased dramatically.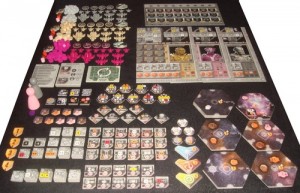 We also have a great range of extras which are ideal for Eclipse, such as Star base game tokens, which come in six colours. Orbital markers, ideal for indicating the ring orbital constructs some aliens can build. Star base expansion, set of 12 tokens in three colours.  Monolith Markers, perfect for indicating rare alien technology or artefacts.  Finally we have Fleet Movement Stands that are great for indicating which pieces are in space and which are on planets.  Though please note not all colours may match the game pieces exactly.
Rise of the Ancients can be played with between 2-9 players ages 14+ and has an estimated playing time of around 2 hours. The Ancients are rising. Will your civilization rise to the occasion and emerge victorious? Available here. 
For the latest board game news and releases follow us on Twitter and or Facebook. Plus you can subscribe to receive our latest blogs via RSS feeds.
Like our blogs? Please Retweet, Like or G+