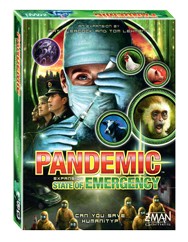 A State of Emergency has been declared in this expansion pack for Pandemic. Things are escalating too fast, can you and your friends successfully work together to prevent diseases wiping out man-kind in time?! There are new elements to the game play:
New roles – Colonel, Pharmacist, First Responder, Gene Splicer and Veterinarian – where some can only be used in certain challenges
New events – Emergency Response, Advance Team, Local Initiative, Resource Planning, Sample Delivery, Emergency Conference and Infection Rumour – again some of these can only be used in certain challenges
Quarantines – allows players to slow down the spread of diseases. This is particularly useful if you're initially finding the gameplay too hard as it will make it easier for players to win. Allowing you more time to get the hang of the gameplay before then making it harder and removing the use of Quarantines. This helps mix up the gameplay and pro-long the life of this challenging game.
Plus 3 new challenges – each typically getting trickier!
Hinterlands – here the diseases are spreading from animals to humans! Can yourselves prevent this spreading across cities, where one of you can play the Veterinarian role (can only be used for this challenge).
Emergency Events – here quarantines particularly come into play with unpredictable Events having terrible consequences on the gameplay. Quarantines help by giving you more time to try and stop the spread of diseases whilst trying to find the cure just in time!
Superbug – there's a new disease that cannot be treated and is threatening the very existence of man-kind! Can you and your friends work together quickly enough to find a cure and produce vaccines to kill the superbug disease in time! Here there's a Superbug version of the Medic role you can only use in this challenge.
There are plenty of new elements and challenges to this expansion pack for fans of the Pandemic game to regularly mix-up the gameplay. Thus making this a very worthwhile addition to the base game, which is required. It's for 2 to 4 players, ages 13 and upwards and the average playing time is 45 mins.
The previous expansions packs, On The Brink and In The Lab, are not required. They can be used with this expansion pack – the Hinterlands and Emergency Events challenge can be combined with In The Lab's Lab challenge plus solo and team games. For the Superbug challenge this replaces On The Brink's Mutation and In The Lab's Worldwide Mutation challenges. For in The Lab's Lab challenge it can be combined with this, where new rules are provided.
Can you and your friends work together to beat the clock and prevent man-kind from being wiped out? Available here
For the latest board game news and releases follow us on Twitter and or Facebook. Plus you can subscribe to receive our latest blogs via RSS feeds.
Like our blogs? Please Retweet, Like or G+