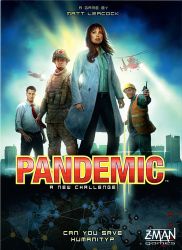 Z-man games are celebrating five years of the Pandemic board game with a complete re-design, giving the game a much more modern look. Plus this new edition introduces 2 new characters: the Contingency Planner and the Quarantine Specialist, bringing new challenges to the game.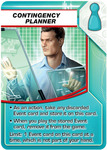 For those new to the Pandemic board game, it has become one of the most successful co-op games over the last 5 years. Up to 4 players can play and you play as doctors and researchers with specialisms in fighting viruses. Several virulent diseases have broken out simultaneously all over the world! Your mission is to treat the disease hotspots while researching cures for each of four plagues before they get out of hand.
On each turn, a player can use up to four actions to:
Travel between cities
Treat infected populaces
Discover a cure
Build a research station.

A deck of cards provides the players with these abilities, but watch out as there are Epidemic! cards as well that accelerate and intensify the diseases' activity. A second, separate deck of cards controls the normal spread of the infections.
All players must work together as a team, where each player takes on a unique role and must plan their strategy to work with their specialist strength to help conquer the diseases. The team wins together or all players lose together, making it a truly cooperative game.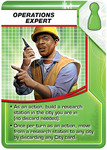 For example, the Operations Expert can build research stations which are needed to find cures for the diseases and which allow for greater mobility between cities. The Scientist needs only four cards of a particular disease to cure it instead of the normal five, however the viruses are out breaking fast and time is running out. The players must work together as a team to stem the tide of the infection whilst also working on a cure. If one or more viruses spread too far or if too much time elapses, all the players lose. If the four diseases are cured, then all the players win!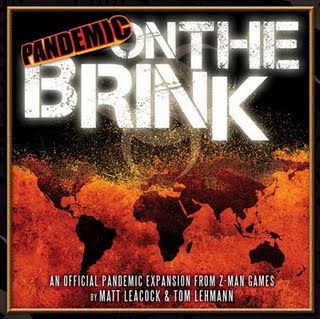 There will also soon be new editions of the 1st expansion pack: On the Brink – the infection rate goes up a notch, 3 different gameplays and adds a new character, the bio-terrorist. For those with the previous edition of Pandemic and don't yet have On the Brink, there will be a compatibility pack out at some point soon that will allow you to play this updated expansion on your current version of this game.
Plus it doesn't stop there, Z-Man games have plans to bring out a new expansion pack later this year: In the Lab – where you play as a lab technician in a biotechnology lab in search of a cure. Sounds intriguing!
Are you up for the challenge of stopping a Pandemic and preventing the spread of deadly viruses that is threatening the existence of mankind? Available to buy here
For the latest board game news and releases follow us on Twitter and or Facebook. Plus you can subscribe to receive our latest blogs via RSS feeds.
Like our blogs? Please Retweet, Like or G+