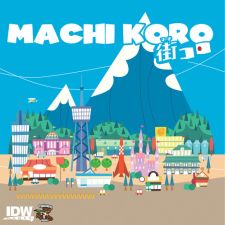 It's time for Machi Koro to grow and become the largest city in the region – in only 30 mins! This is a quick to play fun die-rolling card game, where you play as a newly elected Major. You've been elected to grow the city and build 4 landmarks – Train Station, Shopping Mall, Amusement Park and Radio Tower. Each player starts with 2 establishments – a wheat field and bakery to help kick off your income. How much you earn will depend on your dice roll and the establishments you own. As you earn more money you'll be able to buy more establishments and over time build the landmarks.

Sounds straightforward? If only – as you'll be competing with other players to see who can build the landmarks first and some of the establishments may force other players to pay you money. It's even possible to forcibly trade establishments on the odd occasion! So one minute you almost have the funds you need and the next you no longer do – argh! Plus some of the establishments are reliant on certain dice rolls to earn income – can you pick the right strategy of cards to go for?!
The gameplay does rely on a mixture of strategy and dice rolls and due to the different outcomes no one game will be the same. Whoever builds all 4 landmarks the fastest wins the game! The gameplay will be very familiar to those that play Settlers of Catan and is easy enough to pick up if not. This game is ideal for when you're looking to play a quick series of fun short games with friends – each one within 30 mins. For up to 4 players, ages 7 and upwards.
Fancy being the newly elected major of Machi Koro? Available here
For the latest board game news and releases follow us on Twitter and or Facebook. Plus you can subscribe to receive our latest blogs via RSS feeds.
Like our blogs? Please Retweet, Like or G+