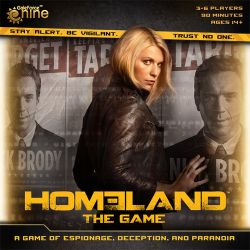 Join the world of espionage in the board game version of the Homeland TV series. Brought to you by Gale Force Nine – who also produced the Firefly and Spartacus board games. This is a semi-cooperative game with all the elements of intrigue, deception and hidden agendas as you would expect. You play as CIA analysts, such as Carrie Mathison, working together to prevent a terrorist event. However each player has their own agenda and so be warned, all may not be as it seems!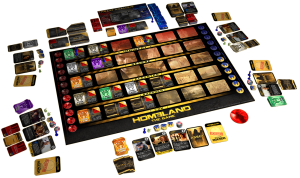 As CIA analysts you'll have resources to manage – special forces, field agents, recruiting key assets etc. to try and neutralise imminent dangers to keep the nation safe. You'll have to be on your toes as new threats and dangers are constantly being introduced, just like in the TV series, by the cards being played. Any actions resulting from these could be the difference between safety and disaster, especially as the threat level rises. There are 5 levels: Low, Guarded, Elevated, Severa and Imminent. Note once it reaches Imminent either way it will be resolved in the next game round.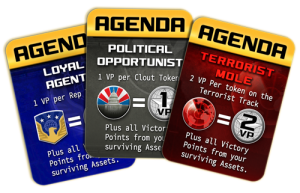 Even though you'll be working together with other analysts you won't be able to fully trust each other, as each of you will have your own private agenda. Where it could even be, but not always, for the event to succeed! There's always more than one agenda card than players, so you'll never know each time you play this game what agendas are in play – helping to mix up the gameplay. Although as you become more experienced in playing the game you may be able to spot some tell-tale signs to indicate what agenda a player may have.
This game makes good use of the Secret Traitor mechanic, used in other games such as Battlestar Galatica and Are you the Traitor.  For the uninitiated the Secret Traitor Mechanic means that every player takes a card at the beginning of the game, one or more of which will indicate that the player with the card is the Secret Traitor.  Their job is to subtlety undermine and work against the other players without being noticed.  In Homeland extra points are awarded at the end of game if you can spot the traitor, whereas if they go unnoticed, they get extra points, and they win if they manage to complete the entire terrorist plot.
Only one player can win who succeeds in accomplishing their own agenda, however you still have to be focused to work together to prevent a terrorist event otherwise you'll all lose. Unless of course that was your agenda! Definitely one for fans of the Homeland TV series that have perhaps also enjoyed playing other TV series related board games by Gale Force Nine. Up to 6 players can play, ages 14 and upwards and each game takes about 90 mins to play.
Did you have what it takes to stay alert, be vigilant whilst trusting no one? Available here
For the latest board game news and releases follow us on Twitter and or Facebook. Plus you can subscribe to receive our latest blogs via RSS feeds.
Like our blogs? Please Retweet, Like or G+