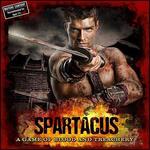 Inspired by the hit Starz TV Spartacus series comes the board game – Spartacus: A Game of Blood & Treachery, brought to you by the same board game producers as Firefly, Gale Force Nine. For fans of this TV series you'll know you'll be in for an exciting game of twisted schemes and bloody combat! Set within the ancient Roman city of Capua, players assume the role of Dominus (leader) of a great house competing for influence and power within Rome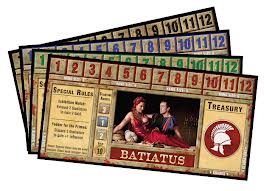 itself. Where you can even be the most power hungry and treacherous of them all – Batiatus! You'll be competing with other players for dominance through political scheming and diplomacy, cunning ploys, treachery and your gladiators battling for glory in the Arena.
You'll certainly need to keep your wits about you to not be undermined and caught out by other competing houses. There are 3 main phases to each round of the gameplay:
Intrigue Phase – here you launch your cunning and treachery Schemes, hoping to raise your fortunes while undermining your rival competing players. Each player takes cards from the Intrigue deck to undertake their Schemes. You then use your Influence to put these Schemes into play, where you can ask or bribe another player's help to undertake much more complex plots.
Market Phase – this is when you buy, sell and trade Assets – Gladiators, Slaves, Guards and Equipment. You can also bid against each other at Auctions to acquire new Assets, as well as bluff and bargain your way to acquire the Assets you require to undertake your cunning schemes and ploys.
Arena Phase – time for your Gladiators to pit themselves against the other player's houses in a brutal bloody fight for glory. Victory is determined via Attack, Defence and Speed dice against one another – good luck! You can further increase your fortunes by betting on the outcomes of these gruesome conflicts. Victorious fighters gain Favour and their Dominus gains Influence helping them in their political scheming to raise the fortunes of the House.
To win you must become the most influential house in Capua, thus securing your family's power for years to come. This game is for minimum ages 17 upwards due to the more adult nature of the game and the TV series it's based on. It's for 3 to 4 players and playing time is from 2 to 3 hours.
Do you have what it takes to become the most influential and powerful Dominus in Capua? Available here