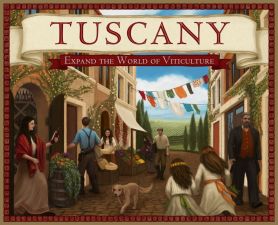 Expand the world of Viticulture with the Tuscany expansion that adds new elements of gameplay to this strategic game of wine making. Just as the original game was kickstarted, the expansion has been as well. We thought this was such a good game that we would also help fund this expansion as well. Tuscany is a pack of 12 mini-expansions:
Mamas & Papas – players inherit a vineyard with set resources as indicated by the Mama and Papa cards
Property – allows players to put fields up for sale that they no longer require to boost cash flow
Patronage – players look to build their reputation as a vineyard owner and catch the eye of a wealthy patron to help fund their expansion plans
Advanced Visitors – visitors that keep coming back will develop new skills aiding the development of your vineyard
New Visitors – reputation is spreading about the vineyard attracting new visitors with special skill sets from around the world
Extended Board – time to expand your operations to all 4 seasons to continue growing the business
Special Workers – here you're after particular workers with unique skills to further develop your vineyard ahead of the competition
Structure – time to build a better vineyard through constructing new structures
Mafia – watch out a new mafia boss is in town – will you be able to gain favour or will you fall foul!
Arboriculture – time to expand and diversify in to new markets – apples, tomato sauce and olive oil. Be careful though workers don't like too much change!
Formaggio – a chance to expand into an emerging marketing – cheese, where you'll need to get to grips with dairy cows and the pasteurise operation.
Automa – time to go solo against an artificial opponent called the "Automa"
As you can see quite an expansive range of expansions, where these can be unlocked ("uncorked" as the game designers refer to this as) game after game as determined by the previous game's winner.  This way ensuring the game play can be different when playing with friends.  The expansions are split into 3 tiers, where players work through each tier before the next one. This allows players to learn them as you go along rather than being overwhelmed with so many different expansion options all at once.
The end of the game is triggered by when a player reaches at least 20 victory points by the end of the winter season, where the last year is played out. There is no longer a maximum point limit as there was in Viticulture. Just as the original game, which is required to play this expansion, it's for 2-6 players (ages 14 upwards) and takes 20 min per player to play. The prima version of this expansion includes customised metal lira coins made specifically for the Tuscany expansion pack.

Are you ready to create the most successful vineyard in Tuscany? Available to pre-order here
Not yet played the original game or missed out on the first print run of Viticulture? Don't worry a second print run is being done, due early Autumn – pre-order yours here to not miss out! Plus we have a special offer on the collector's edition if wanting both items.
For the latest board game news and releases follow us on Twitter and or Facebook. Plus you can subscribe to receive our latest blogs via RSS feeds.
Like our blogs? Please Retweet, Like or G+