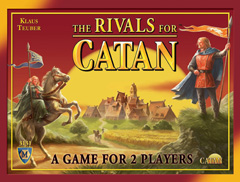 The Rivals for Catan is an updated version of the original Catan card game released in the mid-90s. It features a reduced pool of cards allowing all the action cards to be used, which wasn't possible in the original game. In addition the game designer, Klaus Teuber, has stated that he has completely reworked many of the original card game's mechanics to make it easier for newcomers to play the game.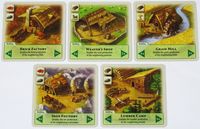 It is a 2 player card game to bring out the ultimate competitive streak as the aim is to outdo the other player in building the most successful province and become Prince of Catan. Each player is to explore and settle new lands in building settlements and in connecting them by roads. Over time you will be able to upgrade some of the settlements to cities to allow more expansions to be built. To do this you will have to acquire new resources through card play and the luck of the dice – gold, response combinations and trade.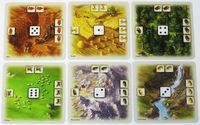 You will also have to contend with politics, show invention and be able to defend your lands, will heroic knights come to your rescue!
Average game play to begin with is 25 to 30 mins. Once you become up to speed with the basics you can add themes to extend the game play to 45 to 60 mins. There are 3 themes available, adding more rules, expansions and cards:
The Era of Gold
The Era of Turmoil
The Era of Progress
These can be played individually or combined to create a new gameplay element – "The Duel of The Princes". Lastly there is the Tournament Game, allowing each player to choose specific cards to build their deck ahead of time from which they draw during the game. Plenty of value to get out this game!
Do you have what it takes to become Prince of Catan? Available to buy here
For the latest board game news and releases follow us on Twitter and or Facebook. Plus you can subscribe to receive our latest blogs via RSS feeds.
Like our blogs? Please Retweet, Like or G+