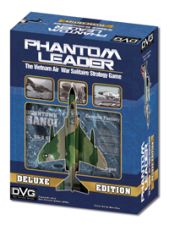 DVG have updated and expanded the original Phantom Leader game to a new deluxe edition. It comes with more cards, pilots able to get all 6 experience levels, new aircraft, more targets, more special events and new campaigns to include the Cuban Missile Crisis. Sounds good…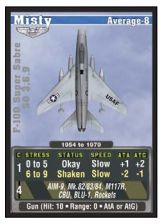 For the uninitiated, in this game you can become the commander of the US Air Force or US Navy Tactical Fighter squadron in Vietnam between 1964 and 1972. Your mission is to not only destroy the targets but you also have to take into account potential political repercussions of your attacks. You will have strike a tricky balance between not striking too hard, so that the air offensive doesn't get put on hold, versus to light, and you'll be held responsible for losing the war. Not too much responsibility then!! This is where the game differs if you have played any of DVG's other series of Leader games that are set in the modern era.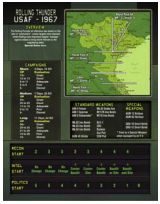 In those versions you would have full freedom to be able to select the mission you saw that made best sense to meet military objectives. However in this game we're going back to the Vietnam War, where the game play follows how it was back then. Here, as the military, you will be responsible for carrying out orders but will be limited in the weapons and tactics you are allowed to complete those orders. These decisions will instead be made by the White House in terms of the specific weapons, approach paths and bombing altitudes for each target. With this chain of command this leaves little flexibility for your pilots receiving the orders, who would otherwise be the best ones to react to the war situation in hand.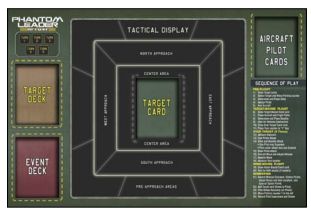 You will also have to take into account the Political value of a target. When you destroy a target the Political counter is moved to the right by the number of spaces equal to its value. As the counter gets moved further and further to the right, the target choices left become less politically sensitive. However there will be times when it may not be best to attack a certain target as you will then be able to instead move the Political counter to the left by the number of spaces equal to its Political value. This means, unfortunately, you cannot always go after the larger targets to boost your victory points. Instead you will need to take into account where you are Politically as well. You may find at times having to go after a pointless target, as crazy as that sounds, to be able to move the Political counter in your favour.
The situation is made trickier in that, unlike now, you don't have air superiority due to the training and technology not being up to the standard it is now. The enemy in Vietnam will have just as capable equipment, albeit different. They will also have the awareness and the training to be able to take advantage of the limitations placed on your command.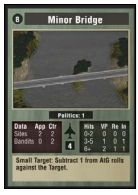 For instance, your pilots will not be able to fire on enemy aircraft until they have visually identified them. Thus you will lose the advantage of using radar-homing missiles. The attacks will also have to be when the enemy aircraft are the air, not when grounded at enemy airbases. Whilst undertaking attacks you will need to be aware of enemy ambushes as they will work out your flight paths. These, as laid down by the White House, can only run at set times and thus you will become predictable to the enemy.
You will also need to pick the right pilots to their skill skits for each mission, to increase chances of success. Just like we previously blogged about in Thunderbolt Apache Leader, as you fly missions, your pilots will gain experience but at the same time will become more tired. With experience, their skills improve, but as their fatigue increases, their skills decrease and they might not be able to fly for several missions. Liking the sound of this challenging game?
It is a solitaire game that takes 30 minutes to play. Each campaign can be played either as the Air Force or Navy squadron. Along with having their own complexes with different targets helping to extend the game play by being able to play it a number of times, each time being different.
Do you have what it takes to handle the challenges of the Vietnam air war? Available to buy here

For the latest board game news and releases follow us on Twitter and or Facebook. Plus you can subscribe to receive our latest blogs via RSS feeds.
Like our blogs? Please Retweet, Like or G+