We have some great new sleeves stock! Introducing the sleeve kings, a new card sleeve for board games with a first-of-its kind fixed width guarantee!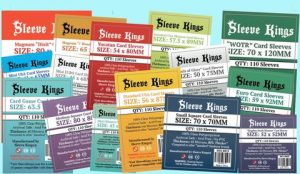 Sleeve Kings are a small group of dedicated board gamers who happen to be passionate about one thing:  Card Sleeves. They wanted to create something new, a high-quality "standard" sleeve that was better than any other yet affordable.
So why should you choose Sleeve King's sleeves over any other kind?
They are thicker than any other standard sleeves, most sleeves are 40 microns thick, these are 60 microns thick!
You will be getting 10% more sleeves in each pack compared to the other brands (110 in each pack as opposed to 100)
Sleeve King sleeves are made from Cleartech™ Polypropylene. Sleeve King sleeves are made from 60 micron thick sheets which are demonstrably clearer than the other guys.  You can actually SEE the difference.
"Tough as nails guaranteed", Sleeve King sleeves are guaranteed never to split!
With 20 different sizes of sleeves to choose from, this brand can meet your needs for all cards! Available here.