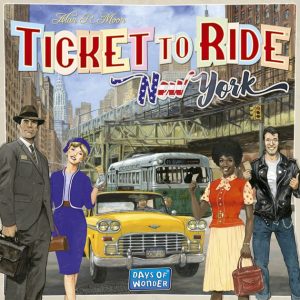 Welcome to the '60s! Admire the stunning view from the Empire State Building, the world's tallest skyscraper, or take a walk through the magnificent Central Park. Go from Times Square to Brooklyn to do some sightseeing… and enjoy!
In this fast-paced Ticket to Ride game, players race one another through the busy streets of New York City to visit the most prestigious Tourist Attractions and complete their Destination Tickets.
Each player starts with a supply of 15 taxis, two transportation cards in hand, and one or two destination tickets that show locations in Manhattan. On a turn, you either draw two transportation cards from the deck or the display of five face-up cards or you claim a route on the board by discarding cards that match the colour of the route being claimed or you draw two destination tickets and keep at least one of them.
Players take turns until someone has no more than two taxis in their supply, then each player takes one final turn, including the player who triggered the end of the game. Players then sum their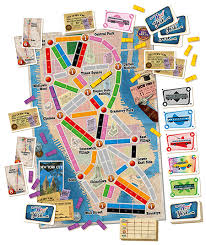 points, scoring points for the routes that they've claimed during the game, the destination tickets that they've completed (by connecting the two locations on a ticket by a continuous line of their taxis), and the tourist attractions that they've reached with their taxis. You lose points for any uncompleted destination tickets, then whoever has the high score wins! Available here.