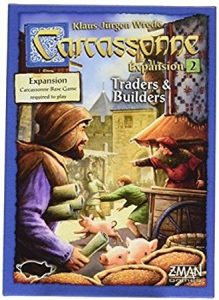 In this second expansion for Carcassonne, you can now build faster than ever before and score even more points by trading goods and nurturing a pig. The new Builder meeples allow you to place more tiles in a single turn when placed on one of your roads or cities. Also included is a linen bag to store your components and bring the game everywhere you go!
Some tiles also feature symbols for the goods Wine, Cloth and Wheat. Players collect one of these goods when the feature that has it on the tile is scored. The player with the most of each type of good gets bonus points at the end of the game. There are also two new wooden playing pieces in this expansion. When that road or city is extended by the Builder's player that player gets to immediately place another tile. A subsequent tile extension of the feature the Builder is in allows the player another tile placement. Farmers will also be able to place a new Pig pawn in a field for extra points at the end of the game.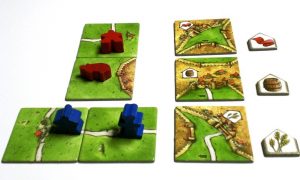 Traders & Builders is playable with or without the first expansion. Available here.