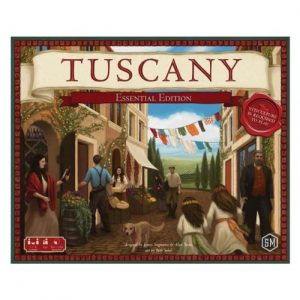 Tuscany Essential Edition features three expansions to Viticulture: the extended board (and 36 wooden stars), structure cards/mats, and special workers (14 meeples instead of the 66 in the original Tuscany, but gameplay is the same)
Extended Game Board: This is a full game board with a new wake-up chart that creates a continuous flow from season to season and year to year, an influence map that lets players grab resources early and points late, and full worker-placement options in all four seasons, including several new actions.
Special Workers: Similar to the grande workers, the special workers are regular workers with one special ability each. This gives players the ability to not only choose where they place workers, but also which worker they will place.  Please note that while there are 11 special worker cards per player there are only 2 special worker meeples to represent them.
Structures: Flip over the extended board to side 2 and you'll find a number of orange card icons on it. They represent a new set of 36 structures that you can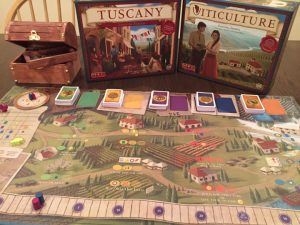 build on your vineyard and your new construction mat. They're drawn from a deck of cards (just like visitors or vines), and you build them with the build action. Every structure offers special ongoing bonuses and new action spaces, forming your strategy in a different way each game.
The only overarching change is that Tuscany Essential is intended to be combined with Viticulture all at once (or as modules to pick and choose), while the original Tuscany expansions unlocked one by one. If you have Tuscany, you already have everything (plus a lot of other stuff) that is in Tuscany Essential. The only component change from Tuscany to Tuscany Essential is the new extended board is matte instead of glossy.
We also have the Tuscany Special Workers Promo cards and Metal Lira coins available. You can order it from here.
For the latest board game news and releases follow us on Twitter and or Facebook. Plus you can subscribe to receive our latest blogs via RSS feeds.
Like our blogs? Please Retweet, Like or G+