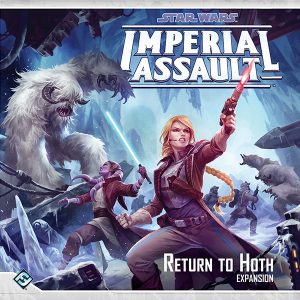 The Empire has discovered the Rebel's base on Hoth! As Imperial walkers descend to the surface and the last transports flee, a few heroes of the Rebellion step forward to protect a colony full of refugees. However, what they don't know is that their heroic actions will eventually lead them back to the very place from where they fled in the first place, Hoth!
Return of Hoth offers plenty of new content for the campaign and skirmish games as it is a new expansion of Imperial Assault. The new full length campaign allows the Rebel heroes to create a new story after the Battle of Hoth while new rules for four player skirmish games invite you to play a massive multi fronted battle.
Whether you're playing a narrative campaign or a fast-paced skirmish, the addition of thirty-seven double-sided terrain tiles invites your heroes to travel the snowy wastes of Hoth and race through the claustrophobic corridors of Echo Base. Sixteen sculpted plastic figures also arrive for you to command in campaigns and skirmishes – three new heroes, six Snowtroopers, two Wampas, four HK Assassin Droids, and a SC2-M Repulsor Tank! With new Agenda cards, Class cards, Deployment cards, Item cards, Mission cards, and Supply cards, Return to Hoth expands every game of Imperial Assault.
Three new heroes join the forces of the Rebel Alliance at Echo Base in the Return to Hoth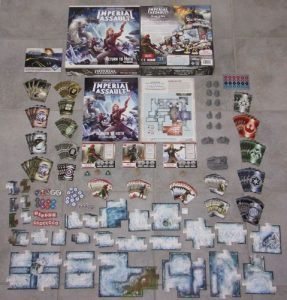 expansion. You might heal your friends and protect them from the cold as the loyal medical droid, MHD-19. MHD-19 has been trained in thousands of medical procedures and will go to any lengths to protect his companions, even taking up arms against Imperial soldiers. Alternatively, you could join the Mon Cala special forces and take down your foes from afar as Loku Kanoloa, a deadly marksman. Loku Kanoloa relies on clever battlefield reconnaissance to bring down his targets, placing recon tokens and gaining a host of benefits for attacking enemies with recon tokens. Finally, you may engage in vital operations for the Rebellion as Verena Talos. This deadly operative is eager to take revenge for the destruction of Echo Base, and she's a fearsome opponent in a campaign or a skirmish. Each of these heroes also features unique talents and abilities in their Class decks, which make playing each hero a dramatically different experience.
The Rebels may escape from the Empire at the Battle of Hoth, but Imperial forces will never stop searching for them. To stop Imperial operations and safeguard a colony of helpless refugees, the heroes of the Rebellion even dare to return to Hoth! With new heroes and dangerous villains, alongside dozens of new cards for the campaign and skirmish games, Return to Hoth changes your games of Imperial Assault forever!
This game can be played with between 2-5 players aged 12 years old or older and can be played within an estimated time of 90-120 minutes. Available here.
For the latest board game news and releases follow us on Twitter and or Facebook. Plus you can subscribe to receive our latest blogs via RSS feeds.
Like our blogs? Please Retweet, Like or G+