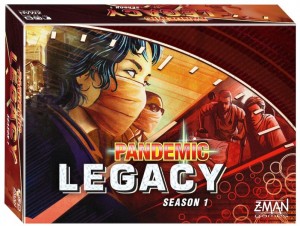 Craft your own unique Pandemic experience with Pandemic Legacy. The world is on the brink of disaster. Each month will bring new surprises, and your actions in each game will have repercussions on the next. In Pandemic Legacy, your disease fighting team must keep four deadly diseases at bay for a whole year. Will you let cities fall to the diseases? Will your team be enough to keep the viruses at bay for a whole year?
Pandemic legacy starts what will be one of the worst years in the history of mankind. Players of this game will have to band together to save the world and determine whether this is actually one of the worst years. 'Unlike in Pandemic, actions taken in one game of Pandemic Legacy have an effect in all future games. The team's characters will change throughout the year, some may be lost, while others may emerge as hero's. Also, of course, there are the diseases which start under control, but you don't know what can happen…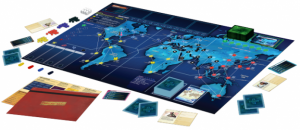 It started simply, with a virus tougher than the rest. Nothing the team couldn't handle—but as January turned to February, it changed again. What resulted is a year that will never be forgotten. This game tells a wonderful story over a number of games (12-24)
Pandemic Legacy has a recommended age of the players of 13+, can be played with 2-4 players and has an estimated playing time of around 60 minutes.
Can you save humanity? Can your team make it through the year? Can your team face month after month of surprises, setbacks, and fleeting victories? Will you be ready for the challenges that await in Pandemic Legacy? Available Here
For the latest board game news and releases follow us on Twitter and or Facebook. Plus you can subscribe to receive our latest blogs via RSS feeds.
Like our blogs? Please Retweet, Like or G+