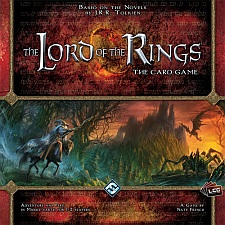 The Lord of the Rings: The Card Game is a Living Card Game (LCG) where over time you can expand the game (core set) with extra decks to further develop the story. Brought to you by the same people behind the A Game of Thrones LCG, Fantasy Flight Games. It is a co-operative game where players work together to face Middle-earth's most dangerous enemies! The gameplay for this initial core set takes you on new adventures rather than following the books. This instead takes place prior to Frodo's quest to find the ring, where the Dark Lord Sauron is still gathering his forces. However there are card deck expansions available that allow you to follow scenes in the books and even link in with the Hobbit book.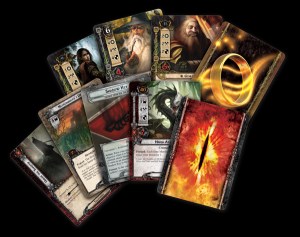 Players select their heroes from well-known characters likeAragon, Legolas, Gimili, Denthor and Eowyn. As you go on your quest you gather allies and acquire artefacts to help complete them. You will need to work together with other players to successfully overcome dangerous encounters, enemies and challenges set by the different scenarios within the gameplay. There are 3 quests each with their own settings and enemies, ensuring plenty of variety to the gameplay even before considering the expansion decks.
In selecting your party for these quests there are 4 distinct Spheres of Influence:
Leadership – hero's potential to lead, inspire, and command both allies and other heroes alike
Lore – hero's mind in intellect, wisdom, experience, and specialised knowledge
Spirit – hero's will of strength, determination, courage, loyalty and heart. As well as elements of the supernatural aspects of Middle-earth.
Tactics – hero's martial ability in combat and overcoming tactical challenges
Having a balance of these across your heroes will give you advantages in overcoming different scenarios you may encounter. As you get to know the game more, this will become even more key in your decision making process to choose the right heroes prior to playing.
This card game is for 1 to 2 players (from ages 13 upwards), although you can play with up to 4 players using 2 core sets. The average gameplay varies on the quests from 30 to 90 mins and will become longer when adding card deck expansions to further develop campaigns.
Are you ready to become a hero and take on the darkness of Middle-earth? Available here
If you're a fan of Living Card Games you may want to protect your cards using card sleeves to increase the durability of them.
For the latest board game news and releases follow us on Twitter and or Facebook. Plus you can subscribe to receive our latest blogs via RSS feeds.
Like our blogs? Please Retweet, Like or G+