In this blog we're going to cover some of the extras for the Power Grid board game that can help with the playability of this game and add to the fun when playing with friends.
Power Plant Market Stand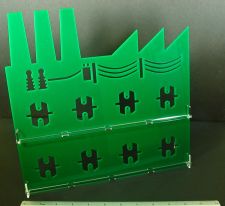 First off is the Power Plant Market Stand by LITKO. This allows you when playing the Power Grid board game to display up to 8 of your marketplace tiles that are up for auction. This makes it much more convenient and easier to show the current available tiles to other players.
In doing so this adds an extra theme to the game play and extends the fun, as instead of just having 4 available you can now have 8.  This is perhaps even more important if playing with extra players by utilising the new colours from the house marker set.
The stand is very simple to assemble and can easily be taken apart when not in use to be stored with the game.
Next brighten up the Power Grid boardgame with:
Power Grid House Markers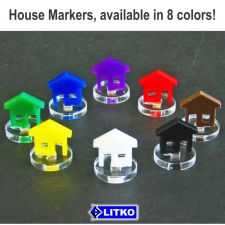 These colourful house markers, designed by LITKO, are to replace the blocks, which do the job but perhaps aren't as attractive as they could be. These markers are stand up replacement houses that will first require assembly on use. They can either be bought in separate colours or as one large pack covering all 6 colours – black, blue, green, purple, red, yellow.  We also have them in white and brown if you want to use them to add an extra player to the game.
Power Grid Tokens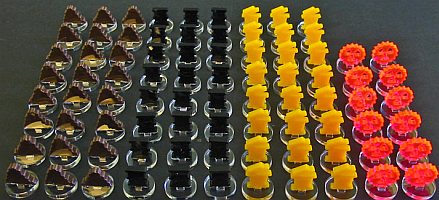 These colourful tokens, designed by LITKO, are to replace the resource cubes with attractive and themed stand up markers. Thus each token marker has been shaped to represent the resources in the Power Grid board game as follows:
Pile of Coal for coal
Oil drum for oil
Trash can for trash
Glowing radiation symbol for uranium
They will require assembly on first use to stand them up. Available to buy here
Plastic Boxes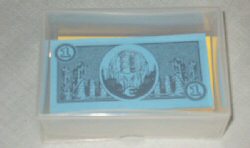 Lastly if you like playing Power Grid again and again you might like to protect your money with one of these plastic boxes. Thus ensuring they are kept carefully and increase the chances of them staying in good condition. These boxes can still easily be stored in the board game box. Available to buy here
For the latest board game news and releases follow us on Twitter and or Facebook. Plus you can subscribe to receive our latest blogs via RSS feeds.
Like our blogs? Please Retweet, Like or G+