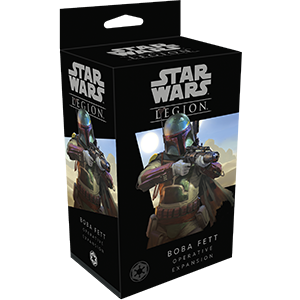 As evidenced by his tracking Han Solo and the Millenium Falcon to Bespin in The Empire Strikes Back, Boba Fett is a cunning bounty hunter who considers all the angles. He's also a formidable warrior, with his intimidating Mandalorian armour concealing an assortment of deadly weaponry. Working best on his own, Boba Fett is just as lethal as any squad of Stormtroopers and this Operative Expansion lets you bring Fett's many skills to your Star Wars: Legion battles.
As the game's first operative, the Boba Fett Operative Expansion includes everything you need to add the galaxy's best bounty hunter to your Imperial army. A single unpainted, easily-assembled miniature depicts Boba Fett taking flight in search of his next quarry. Meanwhile, three command cards let you tap into the many dirty tricks that Fett has hidden in his Mandalorian armour, and three upgrade cards give you even more tools to equip Boba Fett or another unit for battle.
With Boba Fett's introduction to the game, Star Wars: Legion also welcomes a new unit type: the operative. Every Star Wars: Legion army can have up to two operatives, letting you pair these powerful units with one or two commanders. Whether Darth Vader dispatches Boba Fett to do the will of the Empire or he works alongside General Veers, Boba Fett can wreak havoc across the battlefield, beginning with his three signature command cards. Although these cards only allow you to issue orders to Boba Fett himself, they also give you access to many of the gadgets Fett has added to his armour.
Boba Fett is the most infamous bounty hunter in the galaxy for a reason. You'll soon be able to find out why in your games of Star Wars: Legion! Available here.