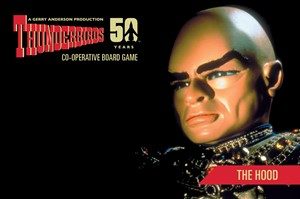 Our agents are close to uncovering the identity of our mysterious nemesis and master of disguise, The Hood. Field reports warn of hijackings, kidnappings and a new worldwide conspiracy originating directly from The Hood's Lair.
The third expansion for Thunderbirds drastically alters the game. This is no longer a co-op where the players try to defeat the game itself. It now becomes a battle of four players against one, the eponymous Hood. The International Rescue players win if they defeat all The Hood's Scheme cards on the track by filling them with Scheme tokens. The Hood wins if a Scheme card is activated before IR defeats it, if a Disaster card reaches the crossbones slot, or if the last card is drawn from the Disaster deck.
The game plays as before, however after each player's turn there is now The Hood's phase. He can take up to two Hood actions and any number of Hood operations. These are different to the actions and operations of the IR players.
The Hood expansion contains new models of:
–          The Hood's Lair
–          The Hood's airplane and submarine
–          The Hood character peg
–          8 x Hood agents.
–          Creighton-Ward manor
It also contains: a wealth of brand new cards and events to expand the challenge.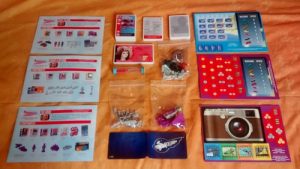 –          1 Hood Character card
–          6 x FAB cards
–          6 event cards
–          3 Scheme cards
–          32 Scheme tokens
With an evil mastermind now at the table, this will prove International Rescue's biggest challenge! As the Hood cause disasters, manipulate events and event hijack IR players! You win by making International Rescue lose! Available here.