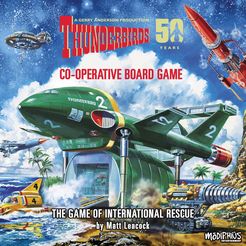 Set in the year 2065, Thunderbirds follows the exploits of International Rescue, a secret organization committed to saving human life, secretly founded and funded by the millionaire Tracy family, with the motto: 'Never give in, at any cost!' International Rescue has a host of technologically advanced land-, sea-, air-, and space-rescue vehicles and equipment ready to launch at a moment's notice.
Racing to the rescue from a secret island base beneath the luxurious home of the Tracy family somewhere in the South Pacific Ocean, International Rescue defies government spies and criminals who want the secrets of their incredible machines for their own. To combat this threat, Lady Penelope, the Thunderbirds' aristocratic English secret agent, and her chauffeur Parker lead a network of agents to uncover those behind the disasters caused by deliberate sabotage.
In Thunderbirds, you and your friends take on the role of International Rescue – a secret organization formed to render aid when all other means have failed. Meanwhile, your arch nemesis, The Hood, is threatening to trigger terrible disasters around the world in an effort to learn your secrets. If you can foil his scheme while completing your missions, then you and your fellow players win the game!
So let's talk cards. There are 47 Disaster cards, identifiable by their yellow backs and the word "Disaster". These are one of the ways that can lose the game for the players; actually from experience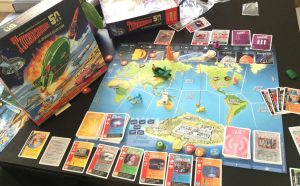 playing regularly with 3 or 4 players, this is almost always the way the players lose the game. They appear each player turn and are placed in a row under the board (adjacent to the provided spaces). These are mainly rescue missions that the Tracys have to perform whilst also attempting to stop the Hood from succeeding with his dastardly plan. The game begins with a number of Disasters already in place as well as a number of Schemes pertaining to the Hood.
Each person plays different characters in the game, for example, you might be Scott Tracy or Lady Penelope. All the different characters can operate any of the different vehicles. You might load up the Mole, fly Thunderbird 2 to Tracy Island, then hop into Thunderbird 3 with Alan and dock with Thunderbird 5 in Geo-stationary orbit. You'll use all of the vehicles to complete different missions around the world and in outer space. And you'll be continually weighing the threat of any of these individual missions against the overall danger of The Hood's scheme.
Players will work together using Thunderbirds characters and vehicles to complete rescue missions and save the day. For instance, to help complete the Attack of the Alligators mission card, players will try to assemble Thunderbird 4 and Virgil in North America. All the time, being mindful of the influence of The Hood. Available here.