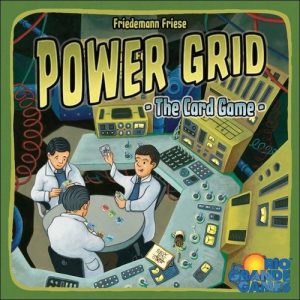 The players represent CEOs of mighty power companies producing electricity. During the game, the players bid for power plants at auctions and supply them with resources. Their income depends on the amount of electricity produced in each round. At the end of the game, the player who produces the most electricity wins.
To give two players an exciting experience, they will play with the Trust acting as a third player. While challenging the opponent, they must incorporate the schemes of the competing Trust in their plans and use these schemes against their opponent
To start the game, the player order cards are randomized and placed on the table. Each player starts with 12 Elektro. The small power plants are shuffled and then 8 cards are drawn from them, they are arranged in two rows of four in ascending numerical order. The top row, with the lower numbered plants, is the active market. The bottom row is the future market. The discount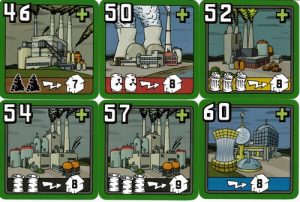 marker, which looks like the number 1, is placed next to the lowest numbered plant. The deck is then prepared with some cards being removed based on the number of players in the game, and then shuffled with the small plants on top, the larger plants on the bottom and the One More Round card being placed on the very bottom. The game is then played over a number of rounds until the game ends. Each round follows the same three phases; Auction off power plants, buy resources and power your plants.
Power Grid: The Card Game offers all the tension and tactics of its two well-known big brothers, Power Grid and Power Grid Deluxe, without using the different maps. You get the full Power Grid emotions in an intense 60 minutes playing time! Available here.
For the latest board game news and releases follow us on Twitter and or Facebook. Plus you can subscribe to receive our latest blogs via RSS feeds.
Like our blogs? Please Retweet, Like or G+