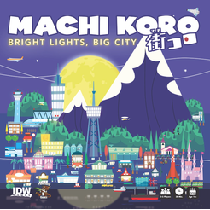 Greetings, Mayor of Machi Koro! Your influence has led to explosive growth in this once sleepy town. Skyscrapers pockmark the land and nightlife is booming, literally. Our little Machi Koro the City that Never Sleeps?! One day, perhaps. For our mayors, Machi Koro: Bright Lights, Big City is a profoundly different beast and not just in terms of expensive tastes!
Machi Koro: Bright Lights, Big City is a standalone, fast-paced game. Each player wants to develop the city on their own terms in order to complete all of the landmarks under construction faster than their rivals. On their turn, each player rolls one or two dice. If the sum of the dice rolled matches the number of a building that a player owns, they get the effect of that building; in some cases opponents will also benefit from your dice roll just as you can benefit from theirs. Then, with money in hand a player can build a landmark or a new building, ideally adding to the wealth of his city on future turns.
This version has some overlaps with the prior versions of Machi Koro, so if you already have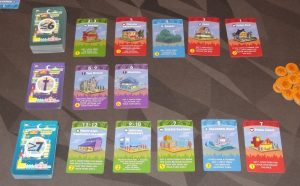 the original Machi Koro or want the flexibility of getting all the expansions, it may not be the right set for you. However, if you're newer to gaming or you want an all-in-one solution without having to look for expansions, this is a nice solution.
Get ready for a whole new twist on Machi Koro. New graphics, new rules and a new way to play ensure no two games will ever be the same. Machi Koro: Bright Lights, Big City is a fun twist on the smash hit Machi Koro and a must have for new and experienced mayors alike! Are you up for the challenge? Get ready to see Machi Koro in a whole new light. The first player to construct all of their landmarks wins! Available here.
For the latest board game news and releases follow us on Twitter and or Facebook. Plus you can subscribe to receive our latest blogs via RSS feeds.
Like our blogs? Please Retweet, Like or G+