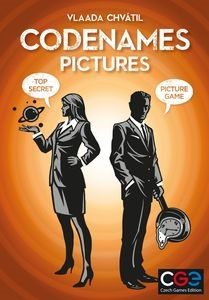 What are these strange symbols on the map? They are code for locations where spies must contact secret agents!
Codenames can now be played with pictures! Whimsical, mind-twisting illustrations are used instead of word cards. Can you find one word that ties your teams pictures together? Codenames Pictures can be played with or instead of the original Codenames.
Two rival spymasters know the agent in each location. They deliver coded messages telling their field operatives where to go for clandestine meetings. Operatives must be clever. A decoding mistake could lead to an unpleasant encounter with an enemy agent – or worse, with the assassin! Both teams race to contact all their agents, but only one team can win.
Two teams play around a 5×4 grid of 20 pictures.  One team is the red team, and the other is the blue team.  Each team has a spymaster who knows which pictures belong to his team, as shown on the key that is facing only the spymasters.  The other players on each team are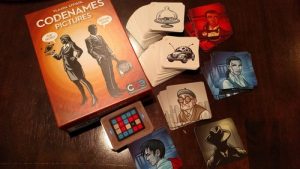 called field operatives.  Each team's goal is to guess their team's pictures on the key by touching them.  For example, let's say that the spymasters had the following key. If they touch the other team's card, that picture is covered by the other team, and their turn ends.  The same happens to an innocent bystander, which is one of the neutral squares on the key.  If the team touches the "the assassin", the game ends immediately, and the team touching it loses. Otherwise, the game ends immediately when one team has all of their pictures covered.
Codenames Pictures can be played with 2-8 players aged 10 years or older within an estimated time duration of 10-20 minutes. Due for release Friday 16/09/16. Available here,
For the latest board game news and releases follow us on Twitter and or Facebook. Plus you can subscribe to receive our latest blogs via RSS feeds.
Like our blogs? Please Retweet, Like or G+