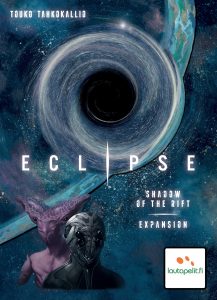 The Ancient Uprising has been put down with a fragile piece again holding in the galaxy. But suddenly, everything changes. Several new factions rise to disturb the status quo. The Unity nano-machines bend energy and matter to their will. The Shaper ships tear the space time fabric apart, while insignificant Octantis factions take a developmental leap after leap forward. It almost seems like the base laws of the universe no longer apply.
Eclipse: Shadow of the Rift introduces several new mechanisms to Eclipse, including Time Distortion, Evolution and Anomalies, as well as several new Rare Technologies, Developments and Discoveries. There are also new Special Reputation tiles, and the new Exploration Hexes have Anomalies and Deep Warp Portals. It includes two new player boards with three new different alien species which you can choose from. Due to its modular design, you can use all of these additions or just some of them in any game of Eclipse depending on your preference and your play style. The expansion does not require the Rise of the Ancients expansion, but it can also be played with it.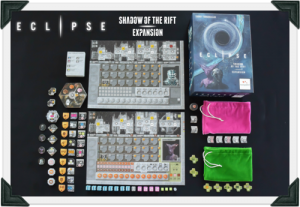 Over the course of nine rounds, players will compete for Victory Points which you can earn through research, combat, diplomatic relations, discoveries, and by controlling galactic sectors at the end of the game. There are many potential routes you can take to victory with players needing to plan their strategies according to the strengths and weaknesses of their species. However, players must remain flexible in order to deal swiftly with opposing interstellar civilizations or they will run the risk of being caught in a losing situation.
As the shadows unfold from the rifts of space time, can your civilization stand unbroken? Available here.
For the latest board game news and releases follow us on Twitter and or Facebook. Plus you can subscribe to receive our latest blogs via RSS feeds.
Like our blogs? Please Retweet, Like or G+