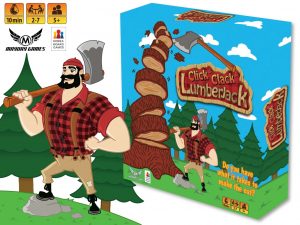 If a tree falls in a forest and no one is around to hear it, does it make a sound? If it does, the sound must be "Click Clack". Grab your suspenders and plaid flannel, trim your beard, and stop eating those flapjacks. It's time to play Click Clack Lumberjack. This is a dexterity game that really is a blast, just AXE your friends… yeah we just said that. Fast-paced classic dexterity game featuring an Axe, a tree, some grubs and an infinite amount of fun from Korea!Click! Clack! Lumberjack is a newly remodeled and revamped version of the already famous Tok Tok Woodman game. Whether you own the original Tok Tok or not, you owe it to yourself to give Click! Clack Lumberjack a look.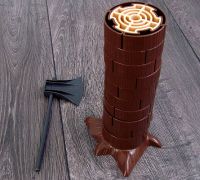 The concept of Click Clack Lumberjack is that you're a hard-working lumberjack whose sole purpose is to collect bark from the trees of the forest. The game is pretty straightforward. Players use the axe to hit the tree two times, collect any pieces that have fallen off, and pass the axe to the next player. The scoring is also fairly simple. Fallen pieces of bark are worth one point and fallen wood cores are worth minus five points. Depending on which version of Click Clack Lumberjack you choose to buy, you might have the optional grub stickers. These stickers are applied to some of the bark pieces adding scoring motivations to knock off one particular bark over another. The grub stickers are a nice addition to a simple scoring system. The new Lumberjack 2.0 comes with 3 different colours of bark.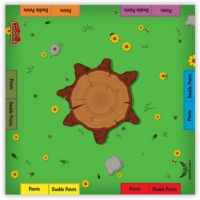 add-ons are a nice way to liven-up the gameplay. The golden axe allows for only one swing at the tree instead of two, but the benefit, or downfall depending on the result, is that anything that is knocked off of the tree from a swing with the golden axe is worth double the points. Bark would be worth two instead of one. But don't forget those pesky cores, they would be worth minus 10 instead of five! The Golden Bark and Core Expansion are pieces that are just like the other bark and cores, but coloured gold. They score, by default, double the points of the regular bark. Here is a bonus, if you knock off a golden piece with the golden axe its worth quadruple points! There is also the playmat shown on the left here to add to the feel of the game.
Click Clack Lumberjack is a game that really is a bit of fun for everyone. This is the type of game you break out at a party to play with your friends or during a family game night. Setup time is minimal, the rules are simple, yet there's room to augment these rules to keep things interesting as time goes on. This game can be played with between 2-7 players aged 5+ and can be played within an estimated time of 10 minutes. Available here.
For the latest board game news and releases follow us on Twitter and or Facebook. Plus you can subscribe to receive our latest blogs via RSS feeds.
Like our blogs? Please Retweet, Like or G+