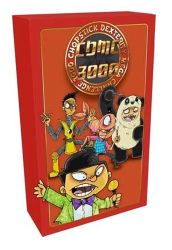 From the makers of Coconuts the crazy monkey games comes their next challenge to further test your dexterity – Chopstick Dexterity Mega Challenge 3000! This game tests your chopstick skills in picking up objects via a series of quick easy to play but frantically fun games with 2 to 3 players. The theme of the game is based on a fictional story – where a few years ago the Lower House of the Japanese Parliament decided they wanted more youths using chopsticks, as they were starting to use fork and knife more and more instead. A TV show was produced by Fujita Television Concern that promoted the usage of chopsticks to win cash prizes. The show and its host Kazuo Yomura quickly became popular among all ages and led to spin off products – including this board game. Allowing you with your friends the chance to become the Chopstick Grandmaster!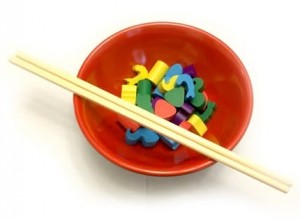 To kick off the game all the objects are first placed into a bowl centrally. A token is selected that shows players the type of objects that has to be picked out of the bowl amongst many other objects. All players at the same time then have to use their chopsticks quickly as possible to pick up as many objects as they can. Whoever picks up the most objects wins (the correct ones mind you). This process then continues where another token is picked out and players then compete with their chopsticks for those particular objects. Once a player has 5 tokens they win the game.
The game can get quite competitive with friends and very frantic with objects flying here and there. There are a few rules to help guide the gameplay and perhaps bring in over competitiveness so that sparks don't fly. In the 3 player game players compete to pick up the same object shape or colour as shown on the token:
When objects are knocked out of the bowl they're eliminated
You can try to grab objects from other player's chopsticks whilst within the bowl area but note no attacking other players hands or chopsticks
No moving the bowl deliberately, often happens by accident due to the frantic nature of the game
If the wrong objects are picked up no penalty for that player(s) but may reduce their chances of winning as could have been picking up the right objects instead
After the first round the player with the least objects is eliminated and then the 2 player game kicks in – The Championship! Here players must pick up the same object shape and colour as shown on the token. When an object is knocked outside the bowl it instead goes back in to the bowl. Also thrown in to the mix at this point are wild tokens, when shown players must pick up all the shapes regardless of the colour.
Note the rulebook mentions a sand timer for the final challenge round however this hasn't been included by Mayday games (an oversight by them that they apologise for) and instead advise to use a stop watch app or similar means.
As with Coconuts this is a good fun crazy game that can be great to play with friends and family (ages 10 and upwards) and can surprisingly become quite addictive to play.
Are you ready to become the Chopstick Grandmaster? Available here
Look out for this game at UK Games Expo 29th – 31st May on our stand K11 as it'll be one of our demo games that'll be featuring and you're welcome to test out your chopstick skills!
For the latest board game news and releases follow us on Twitter and or Facebook. Plus you can subscribe to receive our latest blogs via RSS feeds.
Like our blogs? Please Retweet, Like or G+