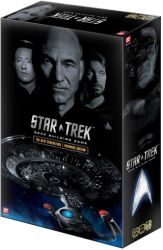 Star Trek fans especially those that enjoy playing deck building games such as Dominion and Thunderstone will enjoy the Star Trek Deck Building game from Bandai – it's time to become like Captain Picard. This game was nominated in the 2011 Origins Awards Best Traditional card game but has taken it's time coming to the UK.
You can play with up to 5 friends and you each get to captain your own Federation Starship with a small crew of ensigns and lieutenants. You can also recruit more experienced crewmen as you feel you need them to achieve your objectives.

Will you form alliances with Captain Picard, Worf, Data and other favourites from the Next Generation TV Series, diplomatic relationships or conquer civilizations in battle?
There are several ways to the play the game and this will determine your objective as follows:
Become the strongest captain first by gaining the most mission points.
Rule the Klingon Empire, they're in a time of civil war, split into 2 teams and prove whether your team is the one worthy to rule the Klingon Empire.
Stop the Borg invasion from assimilating everything by working together – resistance is futile – time to prove them wrong.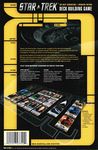 This game very much focuses of the fun in playing deck card games and strategy will play a key part as you determine how to best use your resources to help you overcome difficult Missions, unexpected Events and combat unknown enemies. As well as be able to form diplomatic relationships to become a legendary Captain as Captain Picard was.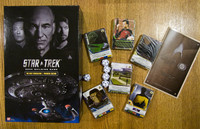 The game comes with 300 cards, 5 twenty sided dice and a manual to fully explain the different gaming scenarios. Playing time is approx. 60 mins and is recommended for ages 13 and up.  Is it time to build your deck and explore the Star Trek universe? Available to buy from our website here.
Want to know more? Explore the game via this video by the publishers Bandai
For the latest board game news and releases follow us on Twitter and or Facebook. Plus you can subscribe to receive our latest blogs via RSS feeds.
Like our blogs? Please Retweet, Like or G+