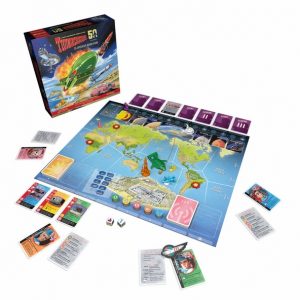 This is a co-operative game from Modiphius for one to four players, that has a lot of playability.It is set in the world of Thunderbirds (a clue in the title I think) where you work together to rescue people from danger, as well as trying to unpick the Hood's dastardly plan. The game was designed by Matt Leacock, the same guy who created Pandemic. While there are a some mechanisms used in both games, Thunderbirds plays very differently.
You have characters that you move around the world (and even into space) using their cool vehicles whilst trying to stop disasters before they happen. There are six characters in the base game, Scott, Virgil, Alan, Gordon, John and Lady Penelope, each one has unique abilities that can benefit you in your work, these characters are in peg form so that they can be inserted into their vehicles. The vehicles? Well the base game comes with Thunderbirds 1,2,3,4,5 and FAB1. The characters and models in this game were easy to paint (even for a novice like me) but while it does make it nicer to play this way, the game is still great to play au natural (the models not the players, although each to there own)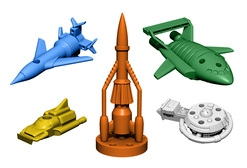 I found this game to be a fun game that was easy to play and played well with both newbies and avid board gamers alike. I even had a friend who knew nothing of International Rescue play the game and she also enjoyed it. It is a great game that reminds you of those Saturday morning tv sessions as a kid getting caught up in the excitement, wondering if International Rescue would make it in time, whether they would be able to foil the Hoods evil plans and why oh why don't we have cool vehicles like these.
You can buy the Thunderbirds Co-operative board game at https://www.bgextras.co.uk/thunderbirds-co-operative-board-game-i2164.htm