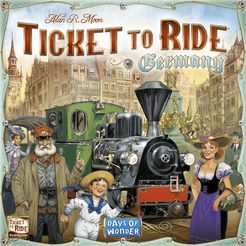 Bing-bong! The next stop for the much-loved Ticket to Ride series is 19th-century Germany. Build your own rail network to connect cities listed on your Destination Tickets.
Watch out for your opponents who might be trying to reach the same corners of the German empire and outwit them by collecting valuable Passenger Meeples from the cities quicker than what they can.
Over the duration of the game, players collect cards to be able claim routes on the game board between two cities. Preferably the players create a network of routes that connect the cities showing on their secret ticket cards. Players score points for claiming routes and for completing tickets, with incomplete tickets counting against a player's score.
In addition to scoring points for tickets, whenever a player places a route on the board, they claim a passenger from the two cities that form the endpoints for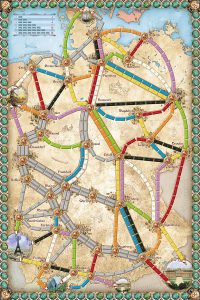 that route. At the end of the game, whoever has the most passengers of each of the six colours scores 20 points for that colour; whoever has the second most passengers scores 10 points. Whoever has the most points at the end wins the game.
Ticket to Ride Germany is a complete, new game that does not require the original version and is guaranteed to offer you hours of enjoyment. Ticket to Ride Germany can be played with 2-5 players are 8 and over and can be played within a duration of 30-60 minutes. Available here.