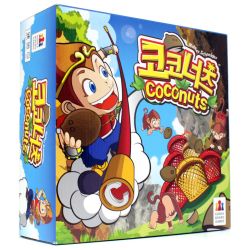 Test your dexterity in the Coconuts board game by assuming a role of a monkey and throw coconuts to be the No.1 ape! You may have seen this game at the recent Games Expo, where we had people crowding round our stall with both children and adults enjoying the game. It was so popular that we sold out of this at the show – however have no fear we're delighted to say we've received a restock of this game.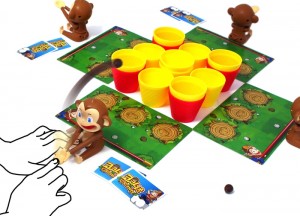 The gameplay is based on the "Monkey King" character from Chinese mythology. Each player assumes a role of a monkey and uses it to catapult coconuts towards a field of cups in the centre playing area. When you've landed a coconut in to a cup, you've move this to your player board. You can also nab other player's cups from their player boards by landing coconuts in them – driving your friends crazy! To mix things up so it doesn't become too simple there are special "Monkey King Magic" cards, where you can force other players to shoot blind, take long shots and other ways to try and mess up their shots.
See the game in action here:
The winner is the first player that is able to complete a pyramid of six cups on his player board. This game is fun for all ages from 6 upwards for 2 to 4 players. Each game takes about 20 mins to play, allowing for several crazy games to be played with friends.
Fancy being a crazy monkey? Available here
Be warned you may find yourself losing coconuts however the game comes with 4 spare coconuts but if you need more spares, or want to extend the length of the game then we have them available in packs of 5.
For the latest board game news and releases follow us on Twitter and or Facebook. Plus you can subscribe to receive our latest blogs via RSS feeds.
Like our blogs? Please Retweet, Like or G+