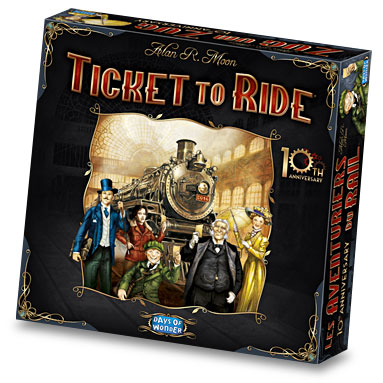 Ticket To Ride celebrates 10 years since this award winning train adventure board game was introduced in 2004 with their very special 10th Anniversary Edition. Whereby they've gone American style and gone big with a much larger US board map (50% larger!) with new illustrations and design. The new map dimensions are 38" by 25.5". Thus the box the game comes in is much larger too and has been re-designed with new graphics – one for game board collectors.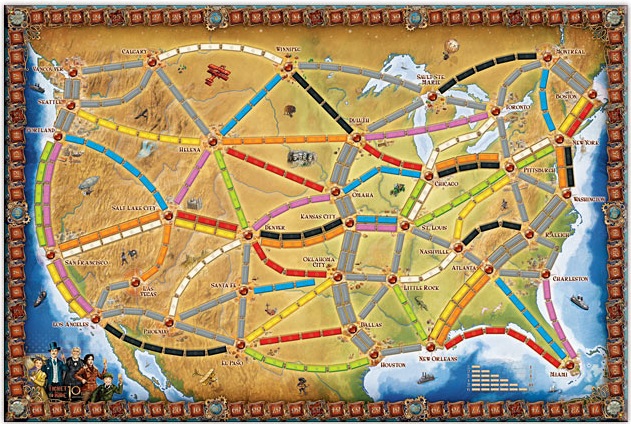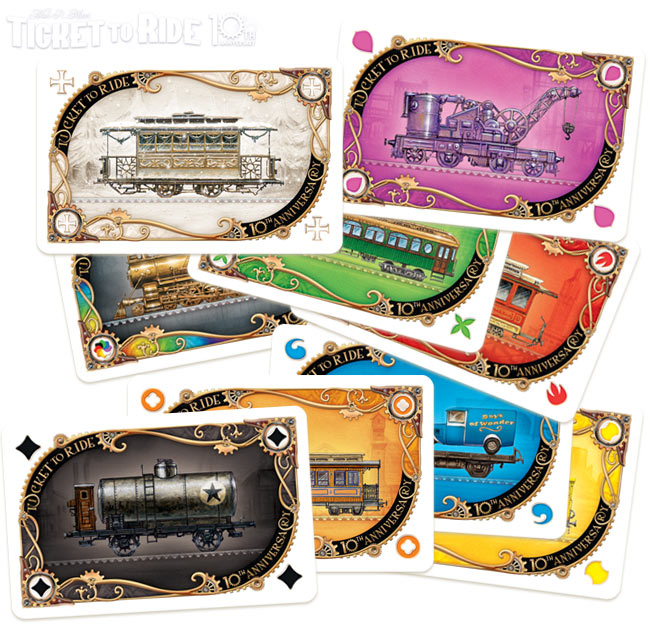 The new much larger US map still uses the same classic US routes as in the original edition. Plus it includes the 1910 expansion destination cards. The train cards are also larger and come with new illustrations. For train enthusiasts the plastic trains have been revamped and finely sculpted. For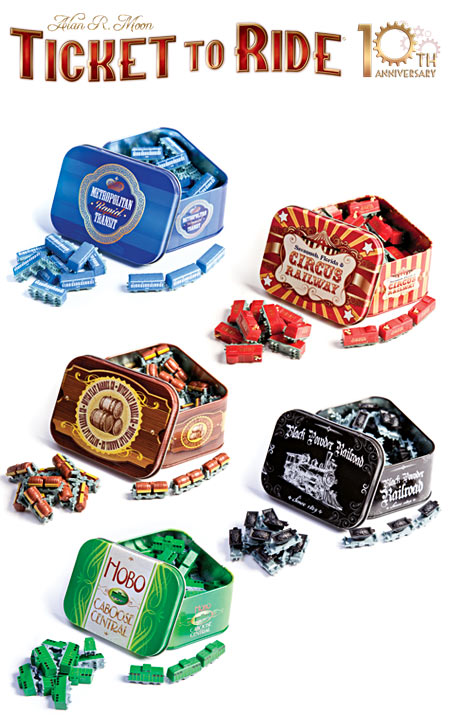 each of the 5 train sets they feature a different type of train car and unique paint scheme that train enthusiasts will appreciate from toy trains of yesteryear.  Each train set is contained in custom designed tin boxes to give that extra special feel to this anniversary edition.
If new to this game (where have you been!) – Ticket To Ride is a cross-country train adventure board game, where players collect and play matching train cards to claim railway routes connecting cities throughout North America. The longer the routes, the more points you earn! Additional points can be earned by fulfilling your Destination Tickets, where you have to connect up two distant cities. Plus there are points available to the player who builds the longest continuous railway. It's for 2 to 5 players, ages 8+ and the rule book comes in 12 languages. Average game play is 30 to 60 minutes and it's great fun to play with friends time and time again.
Would you like to take your Ticket To Ride board gaming experience to a whole new level? Available to pre-order here (out June)
For the latest board game news and releases follow us on Twitter and or Facebook. Plus you can subscribe to receive our latest blogs via RSS feeds.
Like our blogs? Please Retweet, Like or G+