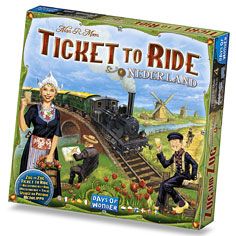 It's time to get on the train and explore Netherlands in this 4th map pack of Ticket to Ride (TTR). It provides a new board with journeys to take across the Netherlands where much of it is filled with waterways. Amsterdam in particular is known as the Venice of the North. This makes for scenic journeys across the low-lying countryside, however means crossing plenty of bridges, with paying tolls!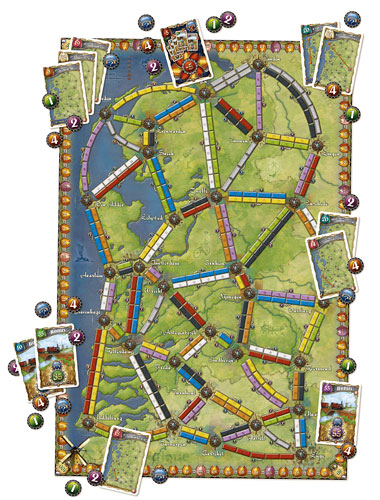 These tolls you pay for, when playing the game, with Bridge Toll Tokens either to the bank or to another player. The map board has been designed by TTR designer Alan R. Moon, who has created some fun new twists for this map edition. The majority of the routes are double-track bridge crossings. When a player takes the 1st route between cities over a bridge, he/she pays the tokens direct to the bank. However when the 2nd route is claimed, the tokens then go to the player who claimed the 1st route.
At the end of the game, players can score bonus points on the total value of these tokens they still own based on how much they own in comparison to other players. These means the player who has the most tokens scores the highest bonus points available, the player with the 2nd highest amount of tokens then scores the 2nd highest bonus points available and so on. The player with the lowest will score zero.
There may be occasions during the game when you cannot afford the cost of crossing a bridge, here you can then take out a loan to cover this. However be aware each loan will cost you 5 points at the end of game and make you ineligible for bonus scoring points. This all adding new fun and twists to the gameplay with friends. The gameplay is otherwise the same to other TTR editions in collecting train cards to claim routes between pairs of cities to complete the tickets you hold in your hand.
This map edition is for 2 to 5 players (ages 8+) and requires train cards and trains from either Ticket to Ride or Ticket to Ride Europe.
Ready to go on a new journey across the Netherlands? Available to buy here
For the latest board game news and releases follow us on Twitter and or Facebook. Plus you can subscribe to receive our latest blogs via RSS feeds.
Like our blogs? Please Retweet, Like or G+