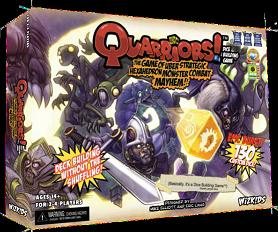 For those that enjoy dice battle games – become mighty mystical warriors, Quarrors, who have the power to capture dangerous quarry from the untamed Wilds! This new setup release of Quarriors is now sold in dynamic cardboard packaging, previously sold in a tin box. It contains the new advanced rules from Quarmegeddon and images on the dice are much clearer to see, making it easier to read them.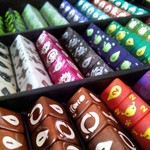 Quarriors is a fast-paced strategy game published by Wizkids Games. Not only do you get the excitement of a dice battle game, there is an added deckbuilding twist. Players can customise their dice pools during the game using resources generated by their rolls. Thus taking the best out of deckbuilding games without the tedium of shuffling. If you're used to playing deckbuilding games and dice games you'll find yourself within an hour on your second or third game trying unique strategies against your opponents – great fun!!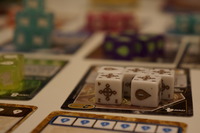 Each player takes on the role of a Quarrior competing for Glory in the eyes of Quiana, the Empress of Quaridia. You will each be trying to deliver your captured quarry to the Empress Quiana to earn rewards – Glory. Whilst preventing others from achieving this. Each player will roll their dice to attempt to:
Conjuring the mysterious powers of Quiddity
Casting powerful spells
Summoning their creatures to battle to try and overcome other players
Each time your Quarry survives a turn; you will score Glory points and move closer to victory! The first player with enough Glory wins the game and is hailed as the Champion of the Empress.
The strategic element will mean trying to balance your choices each turn to outmanoeuvre your opponents. Will you use your Quiddity to summon Creatures in the hopes of scoring Glory or should you spend it all to capture more powerful Quarry from the Wilds? Available to buy from our website here.
Want to know more? Watch this video review by Drakkenstrike
For the latest board game news and releases follow us on Twitter and or Facebook. Plus you can subscribe to receive our latest blogs via RSS feeds.
Like our blogs? Please Retweet, Like or G+