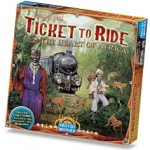 In this blog we will cover new expansions packs for Power Grid, Catan and Ticket to Ride ideal to extend your own board games.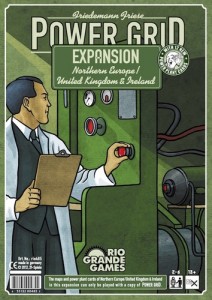 First off is the new expansion for Power Grid with new maps and cards of Northern Europe / United Kingdom & Ireland. Note it does require a copy of the original Power Grid game. The rules are the same, where by the objective is to supply the most cities with power when someone's network gains a predetermined size. However the differences are using different maps and new power plant cards:
Northern Europe: The seven countries in Northern Europe use very different energy sources for their electricity production. Depending on which regions are chosen the players will be confronted with a changed set of power plants.
United Kingdom & Ireland: The players can operate two different networks on these two isles. However there is no direct connection between Ireland and Great Britain, which can make starting a second network quite costly. Additionally, this region changed from a resource exporter to an importer in a very short time, so for those that know this game well, step 3 starts earlier when playing on this map.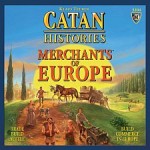 One for fans of Catan, from Mayfair Games – Catan Histories: Merchants of Europe. This is a twist on the 2010 release Settlers of America: Trails to Rails from designer Klaus Teuber. The game uses the simple and fun Catan hex and resource system to recreate the rise of the merchant class across Europe. Merchants provided the European population with goods of all kinds, such as fur from the north, cloth from Flanders, wine from the south, and spices from India. The most important commodity of all was salt and was highly prized in the Middle Ages to preserve food.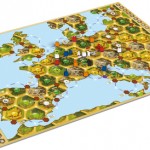 Recruit new merchants and send them to distant cities to establish trading posts and expand your interests. The more trading posts you have, the more commodities are at your disposal which you can sell profitably in foreign cities. To ensure that your commodities arrive safely at their destination, you must open up trade routes and equip caravans. You win the game if you are the first to deliver all of your commodities to foreign cities.
This classic Euro-style strategy board game can be played with 2-4 players (best with 4), ages 12 and up, and takes about 90 minutes per game. Available to buy here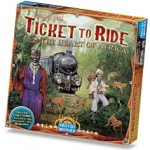 Lastly is the Ticket to Ride Vol 3 – The Heart of Africa, set in the vast wilderness of Africa at the height of its exploration by intrepid explorers, missionaries and adventurers. This is a single-sided expansion map for Ticket to Ride or Ticket to Ride: Europe (it will require a copy of either of these games), focuses on the central and southern "heart" of the continent displayed in a vertical format.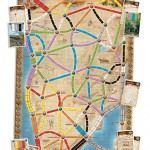 This expansion includes 48 Destination Tickets, new Terrain Cards and multilingual Rules booklet. Designed for 2-5 players, ages 8+, this expansion takes 30-60 minutes and is played using Train cards and Trains from either Ticket to Ride or Ticket to Ride Europe. Available to buy here
For the latest board game news and releases follow us on Twitter and or Facebook. Plus you can subscribe to receive our latest blogs via RSS feeds.
Like our blogs? Please Retweet, Like or G+